Today's article discusses practical issues regarding downloading, opening and printing patterns. I get a lot of questions about this, so I thought it would be better to explain everything in one article than to answer each and every one of those frequently asked questions separately. I will be able to save some time and write another tutorial or design a new pattern and you will have all the practical information summarized here.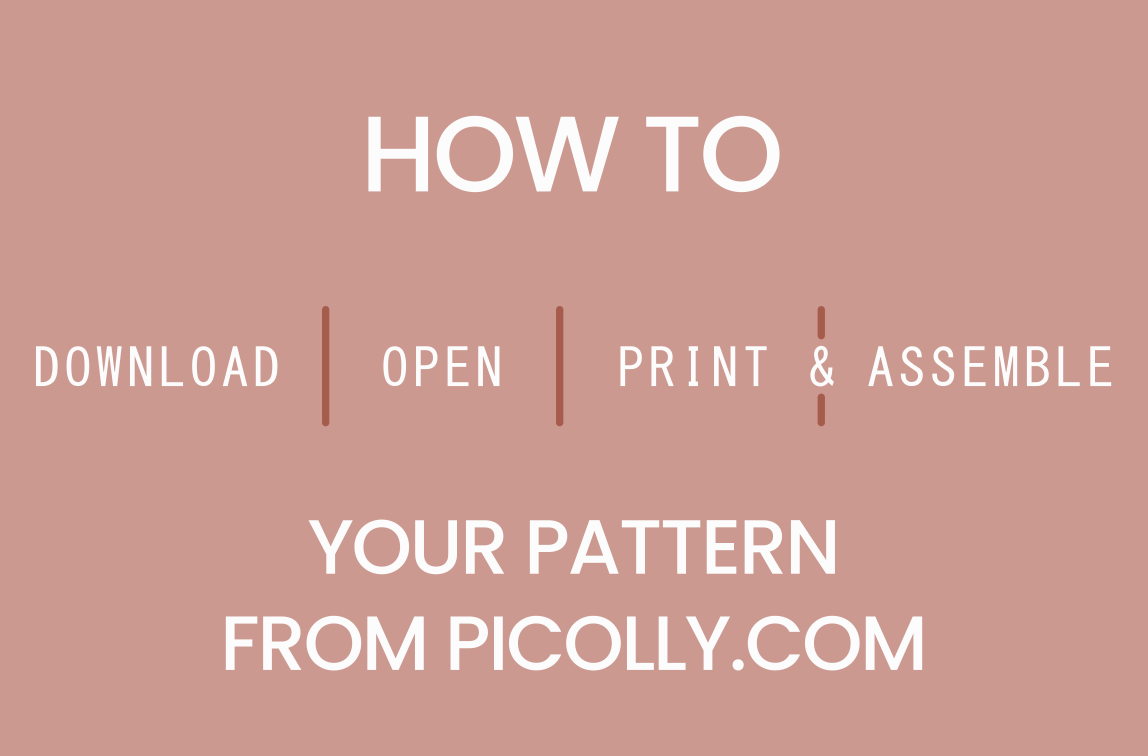 Receiving the pattern files:
"…it's absolutely necessary to use correct e-mail address in your order (without typos)…"
In order for everything to run smoothly, you need to enter correct email address in your order. Double check that there is no typo in your address, so you can get your pattern as soon as possible. If you enter your address incorrectly, then we will not be able to send you order confirmation and pattern files. This leads to a situation where you paid for the pattern, but you have none. That's when customers usually get slightly upset and I'm getting emails with the subject "Where is my pattern" and so on. Wrong address issue significantly slows down the order processing, because we have to check the database, find your order, manually fix your order and send you your patterns. This whole thing takes some time, and it can be a bit annoying because you were so excited about the patterns, but you still don't have them.
It is also important to send your payment with the correct variable symbol. Correct payment information will appear on your screen once your order has been completed and it will be also sent to your e-mail address. You will also receive the order number, which serves as a variable symbol with which the payment must be sent. It is not feasible to trace and match orders and payments manually based on names or amounts. Correct variable symbol solves this, because we often get orders from customers with very similar names at the same time, etc.
"Payment with correct variable symbol is necessary for fast order processing."
If you entered the correct email address and you still haven't received your order confirmation or patterns, please check the spam/promo folder in your e-mail client. Sometimes it happens that our e-mails end up there for some reason, so check these folders first to avoid unnecessary waiting if you think can't find your order confirmation / patterns. You can also set up a filter (whitelist) in your mailbox so that our e-mails won't ever end up in spam folder. Simply go to Settings - Filters in your mailbox (settings may vary depending on your e-mail client) and create a filter that says that if the e-mail address contains @picolly.com, it should never be sent to spam folder. This will keep all messages from us in your main inbox.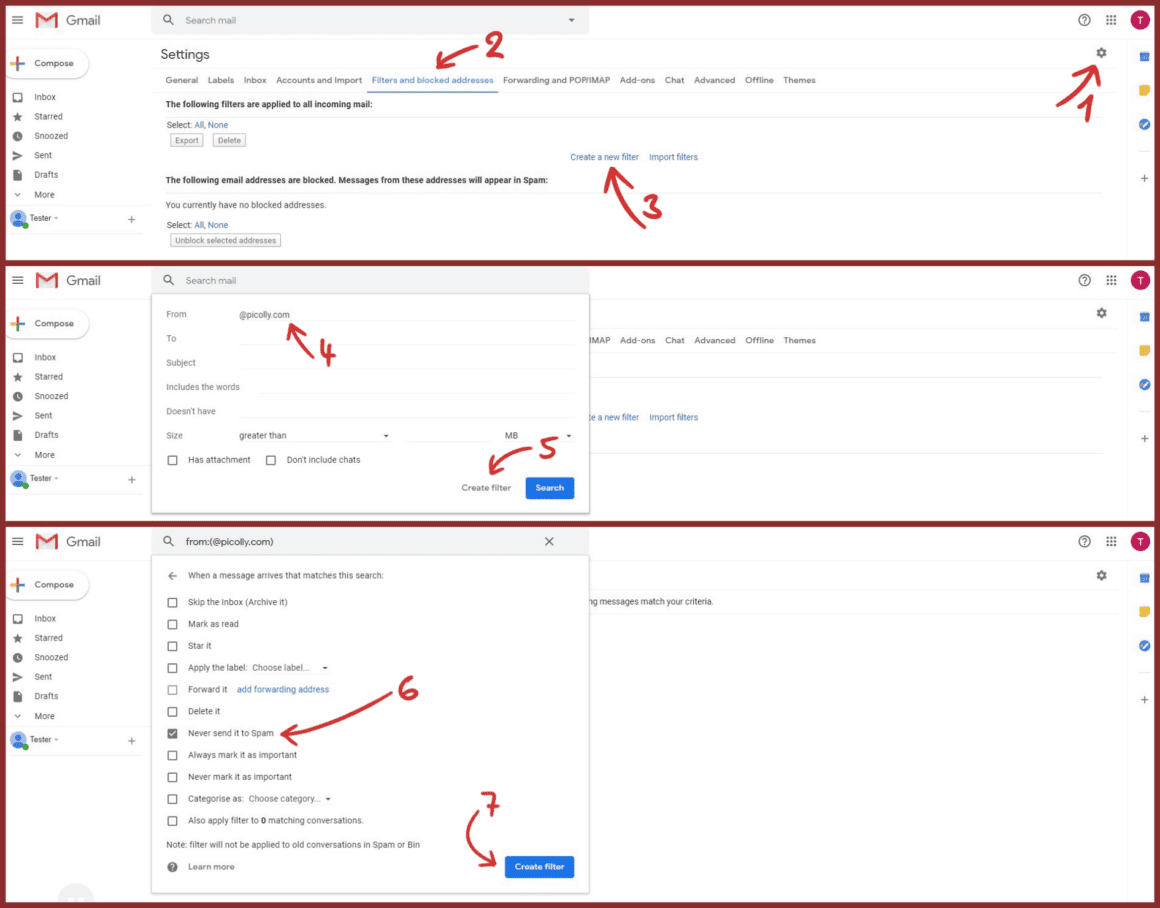 Downloading the pattern files:
When we receive your payment, you will automatically receive an email from the system confirming that your order has been completed. This message contains links that will allow you to download your patterns. Said process is fully automated, orders are not handled manually - our system "looks" for new payments and pairs them with orders based on variable symbols (order numbers). This is why it is necessary to always send payments with correct variable symbols.
If you have correctly filled in your e-mail address in the order form, entered the correct amount and variable symbol in the payment and received e-mail with links, then you just need to download and print your new patterns. You will receive following e-mail: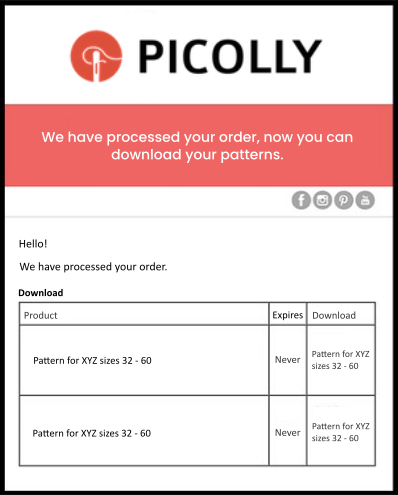 If you are trying to download and open files on a mobile device (smartphone, tablet, etc.), please switch to the computer.
E-mail contains chart showing the names of purchased patterns (the column labeled "Product") and the corresponding download links (the "Download" column).
"…switch from mobile device to your computer…"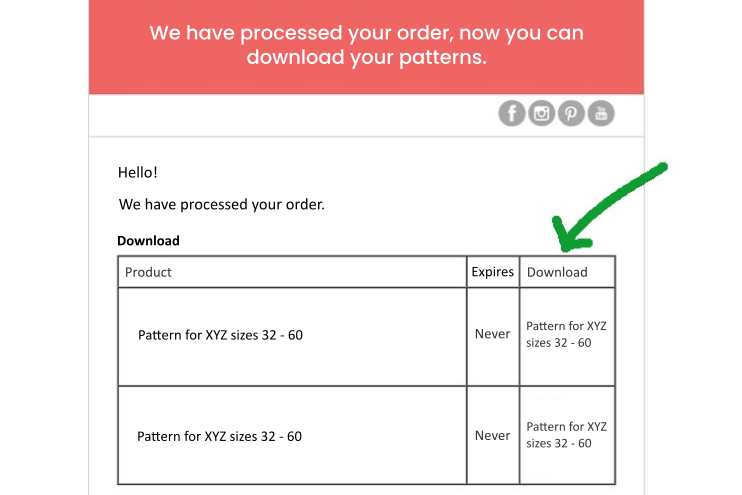 When you click the link, the pattern will either be downloaded automatically, or a dialog box will pop up asking you where and under what name you want to save the file. This depends on the settings of your computer.
Opening the pattern files:
The file is in .zip format because it contains several subfolders. If you don't have any software to work with these files, I recommend downloading the free version of winRAR. Latest version is always available here.
If you want to open the file, right-click it and choose to open the file in winRAR. You will see a window offering you a paid version - simply close this window (or you can buy a paid version if you want to).
WinRAR will open the file and you can browse through the entire folder structure and choose in which format you want to view and print your pattern.
You can also right-click the pattern file and choose "Extract here" option with a little winRAR icon. This will quickly extract entire folder structure.
If for some reason you don't want or can't download winRAR, you can use some online program to open the pattern file. You can use ezyZip, for example.
Upload your files, click the "Extract" button and you will be able to browse the folder structure. You can also download individual files from the structure.
Printing the pattern:
"Patterns from Picolly.com are available in two views (with and without the seam allowances)."
You can easily print the pattern at home or in a copy center. PDF patterns files always come in format A4 (+ A1 / A0 format in some cases).
You will get your patterns in two views:
Individual sizes view ("template view") – pattern files for individual sizes with the seam allowances outlined (the sewing lines are marked red and the overall piece shape including seam allowances is blue).
All sizes view ("classic view") – pattern file shows all sizes without the seam allowances.
I like to work with patterns in "template view", because I do not need to measure and add the seam allowances. I simply put the template on the fabric, cut it exactly according to the shape of the template and sew. However, some people might prefer the "classic view", so you will always receive both views from me.
Patterns are always in PDF format. It is best to open them in Adobe Acrobat Reader. You can download this program for free here.
Find the page with the reference square. Most of the time it is the first page, but despite all the effort I could not get the control square to the first page in some cases. Scroll through the document if you don't see the reference square right at the first page...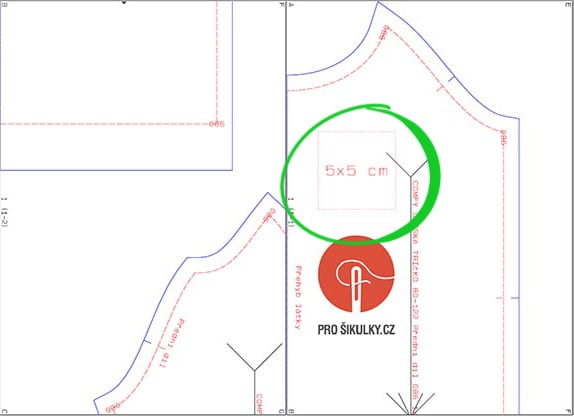 "First print the page with the reference square on it and measure the reference square."
First print only the page with the reference square. Press Ctrl+P to get to the print dialog window or click "File" in the upper left corner and then click "Print".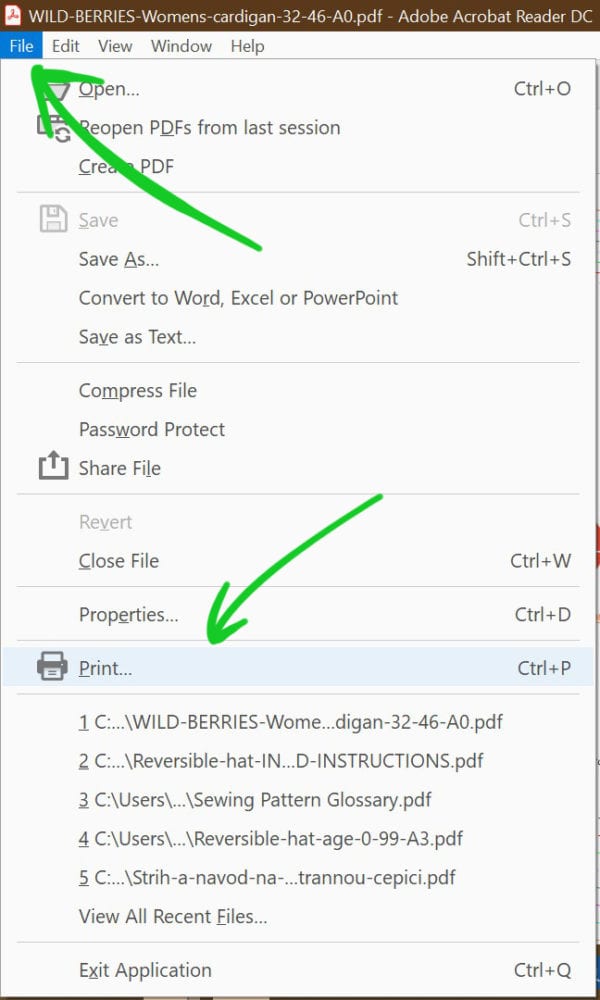 It is very important not to change the size or aspect ratio of the page when printing it. You should set the print scale to the 100% in the dialog window or check the "actual size" setting. This ensures the right scale and shape of the print.
A relatively common problem is that the page "snaps" to the upper left corner - despite various settings, the page is not centered on the paper, see the following pictures:
In this case, try switching "Page sizing & Handling" to "Poster" in the dialog window and select the 100% scale again.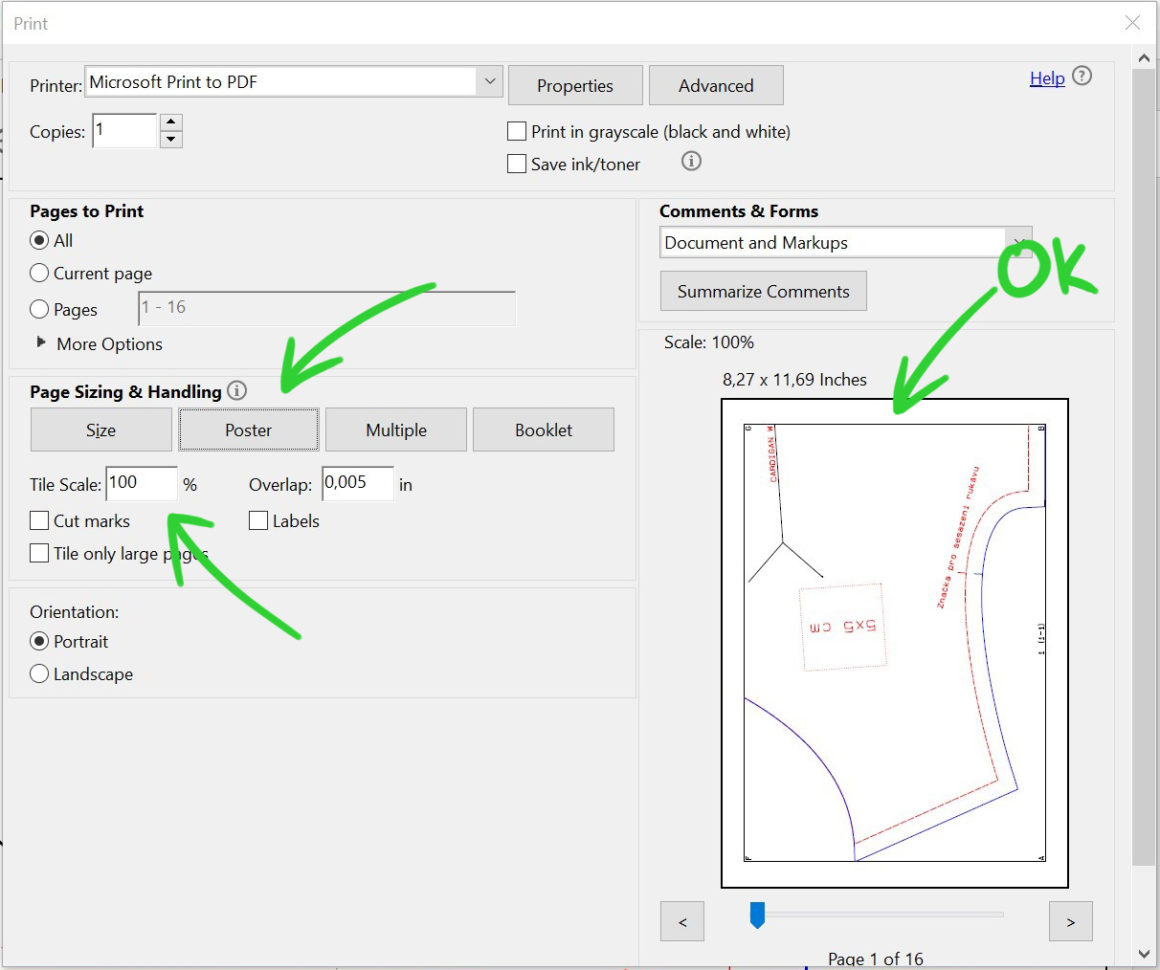 After printing, measure the reference square on your page with a ruler. If the scale is right - the dimensions of the "real" square correspond to the dimensions indicated in the square - print the remaining pages of the pattern using the same settings. Otherwise, you need to try different settings in the dialog window (or directly on the printer) to get the scale and aspect ratio just right.
How to assemble the pattern:
Now you just need to assemble the pattern - glue it together. Some sewers are a little afraid of this phase, but it's not hard at all. I try to sort the pages in a logical sequence to make my work easier. Play some nice music, have a cup of something tasty and get to work. You can learn more about this process here:
How to assemble the paper pattern easily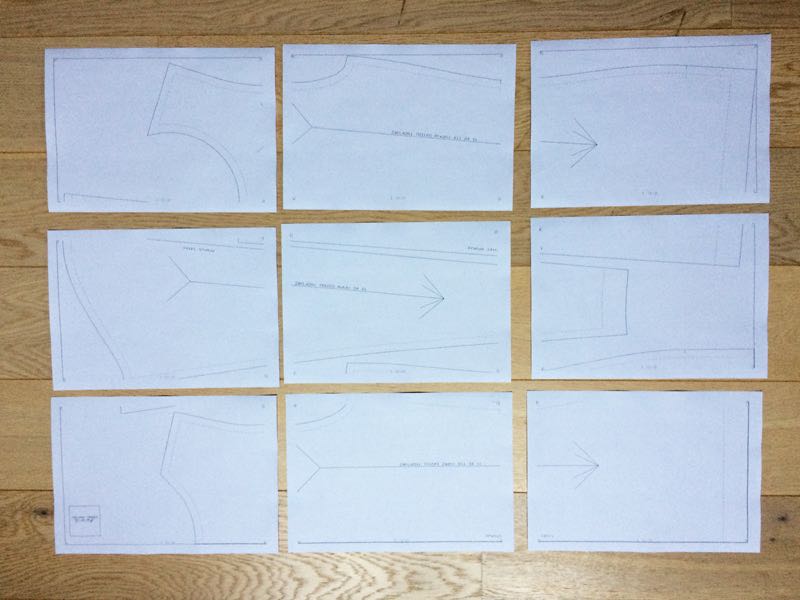 I think that now you have all the information you need to start sewing.
Have a nice day, Peťa