Today I have a shorter inspirational article for you. For a few years, I didn't really know how to store the fabrics, where to store them, how to organize them, and so on. Right at the beginning I will show you what my sewing workshop looks like: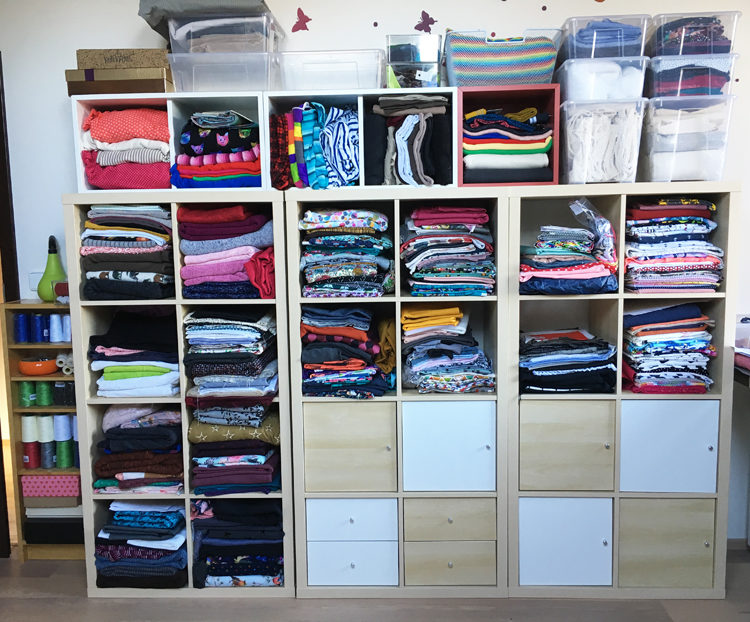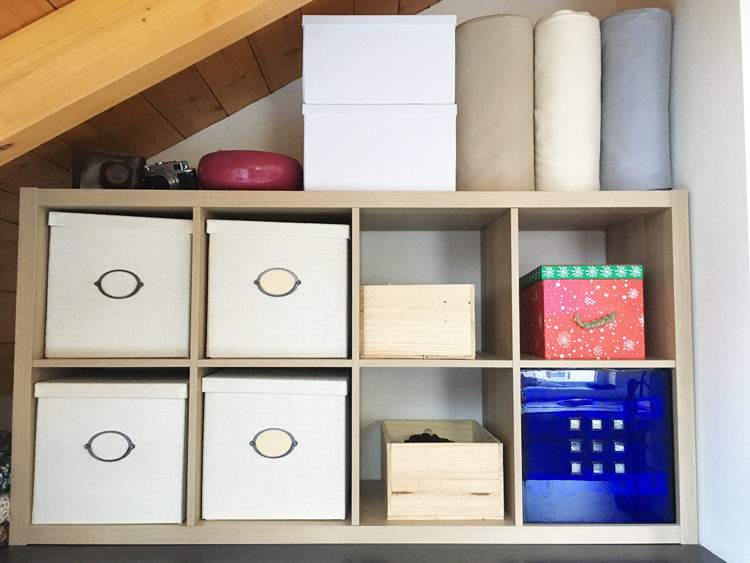 Washing fabrics before sewing?
To begin with, I would like to mention one of the topics related to the storage of fabrics, namely washing (or pre-shrinking) fabrics before sewing. If you have been sewing for a while, you may know that the community of sewers is divided into two camps regarding this. I have already discussed this topic in detail in different article. You can learn more about washing / pre-shrinking here: 
Should you wash fabrics before sewing?
How to store fabrics
Today's article, however, is mainly about the storage of your (washed, clean and ironed) fabrics and their organization.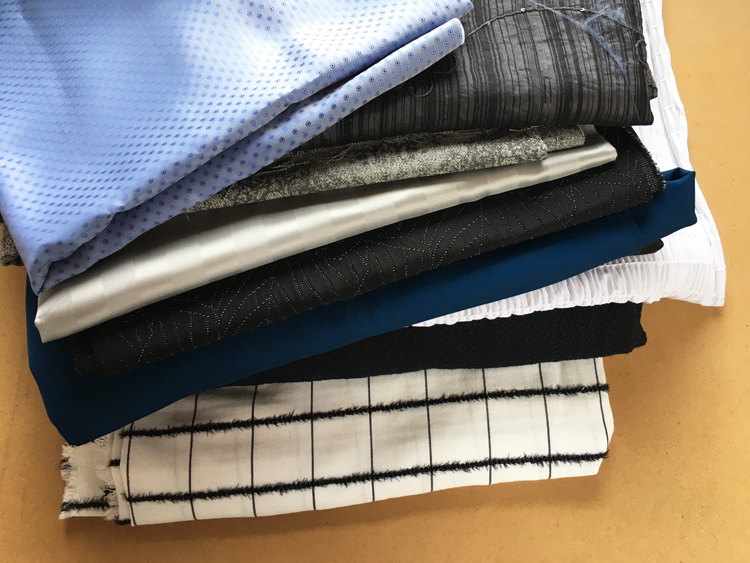 Sorting
If you have been sewing for some time, you surely started to accumulate various fabrics. Some are probably perfectly sorted, pre-shrinked and ironed others may be only freshly unpacked and then you might also have a lot of scraps and leftovers. How to make sense of this "creative mess"? I'm sorting my fabrics by type - little pile of sweater fabrics, one shelf for tracksuit fabrics, different one for canvases / shirt fabrics, and so on. I cooperate with several e-shops, so I also have to keep a record of what fabric I have from which store, so I can then tell you about it.
My storage looks like this:
Tracksuit fabrics on the left, sweater fabrics on the right...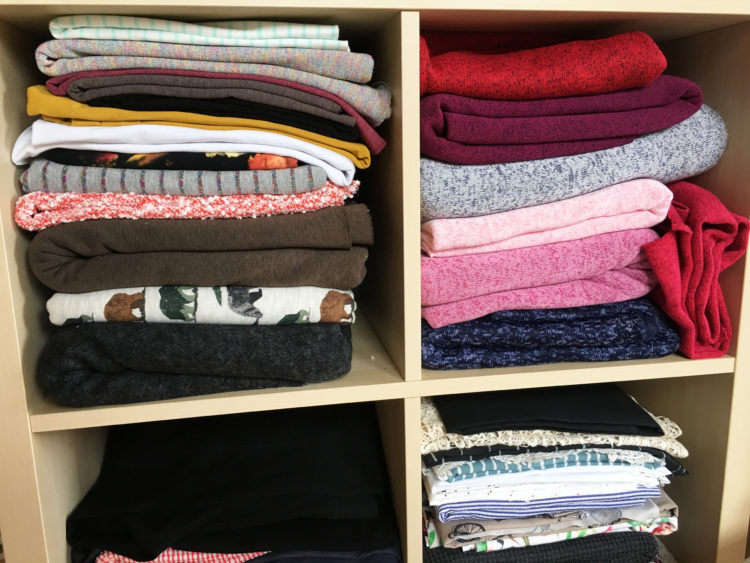 ...sweater fabrics on the left side, knits on the right side...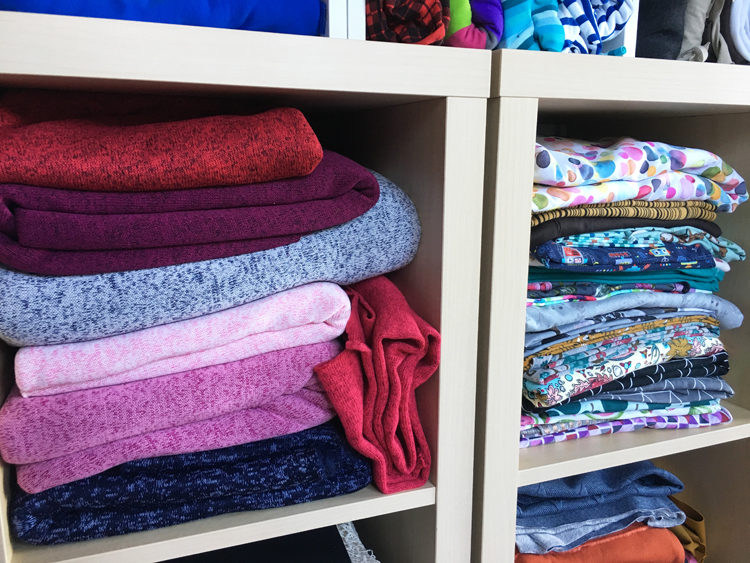 ...softshell...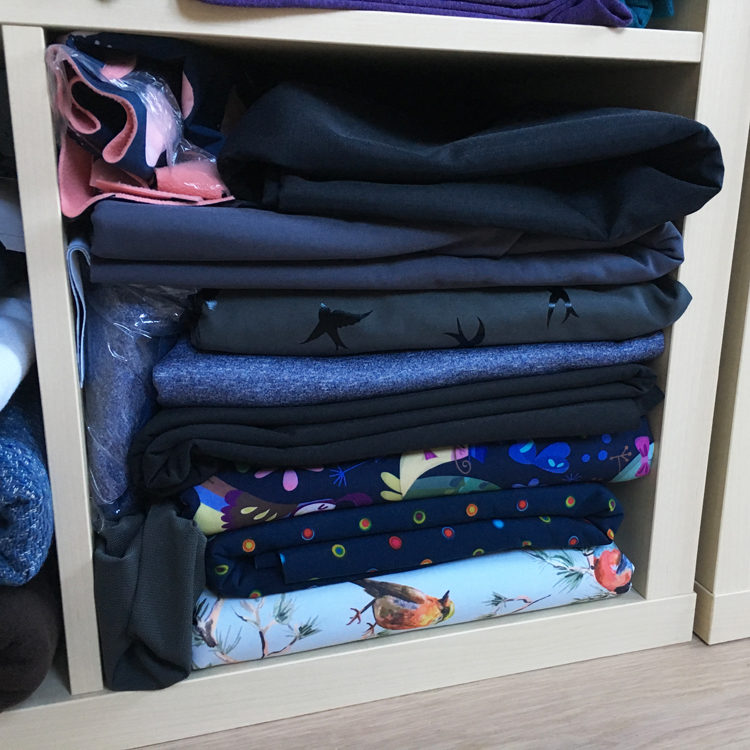 ...hem knits.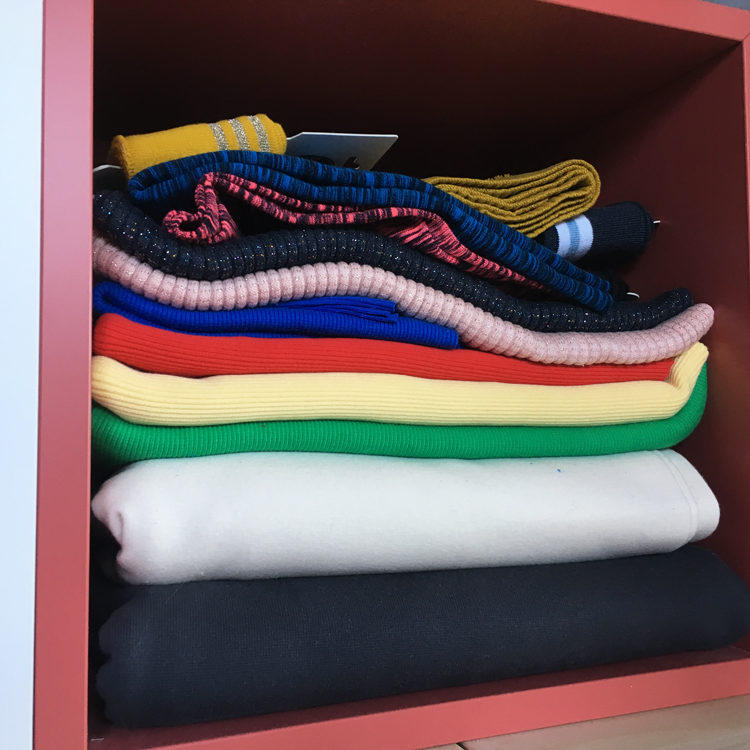 Of course, you do not need to keep track of where you bought which fabric, but I highly recommend sorting the fabrics based on their type or use. Use the sorting style that works best for you. For example, you can stack fabrics that are suitable for sweatshirts, t-shirts, sweatpants and hats on one shelf, and fabrics suitable for patchwork on another. If you have a lot of fabrics, you can sort them based on their type (my case), so tracksuit fabrics in one place, sweater fabrics elsewhere, then stack of softshell, different stack for shirt fabrics, and another one for lining fabrics... It also depends on how much space you have. You can also sort the fabrics based on their composition (cotton weaves, cotton knits, viscose knits, viscose weaves...). Choose the system that will make your work easier.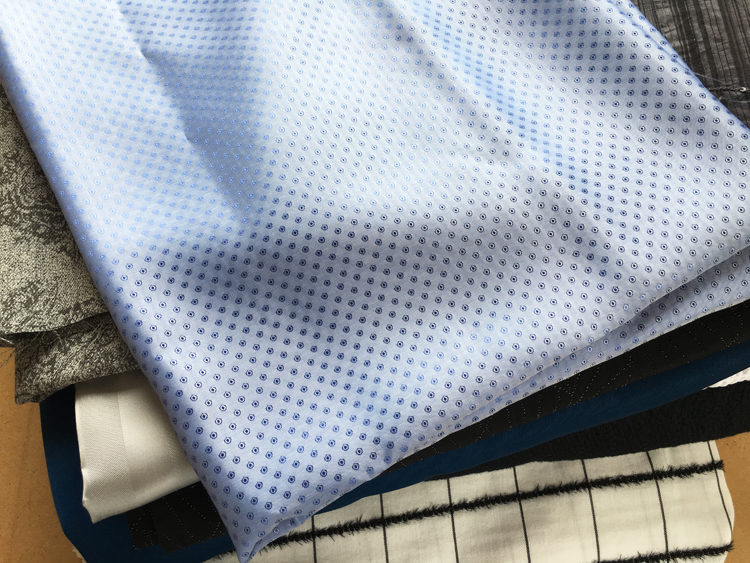 Labeling
If you lean towards somewhat chaotic storage style and sometimes you don't know which fabric is suitable for what, then I recommend labeling. It's a bit laborious (especially if you already have a lot of fabrics) but it definitely pays off. The next time you bring new fabrics home, unpack them (you can also wash / pre-shrink them) and take a moment to label them.
I do this mainly with fabrics with difficult to recognize composition (composite fabrics, etc.). And if you are sewing some piece from multiple types of fabric, you should know the exact composition of each one to know if it's possible to combine them at all.
So, when I received a package of luxury fabrics recently, I made this simple chart.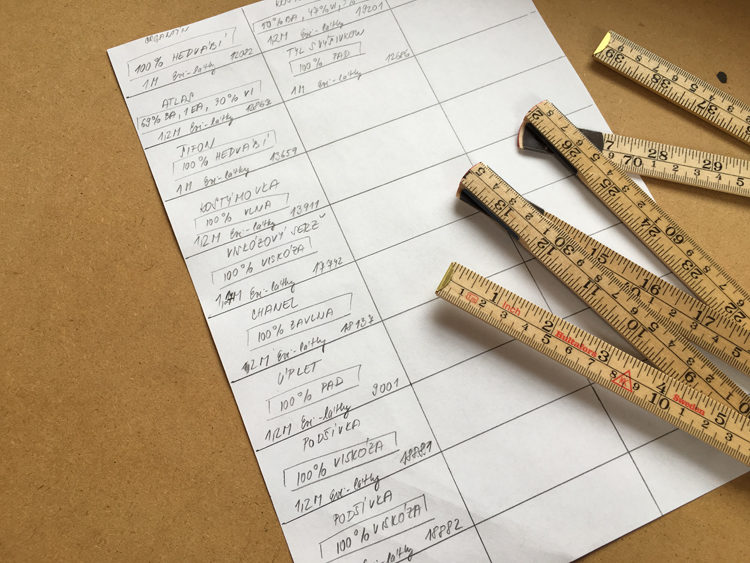 I'm noting the name of the fabric given by the vendor (for example "chanel", although I know that the correct name would be "bouclé", etc.), so that I could communicate with the vendor if I need to. Then there is the code under which the vendor registers the fabric (so that I can always find it in their e-shop quickly). And I always note the exact composition of the material on the label (that's really important), then there is the amount I have and the name of the vendor/e-shop. I always mark the remaining amount so that I don't have to unpack and measure fabrics each time I'm looking for something to sew from.
Then I just cut the chart to get individual labels.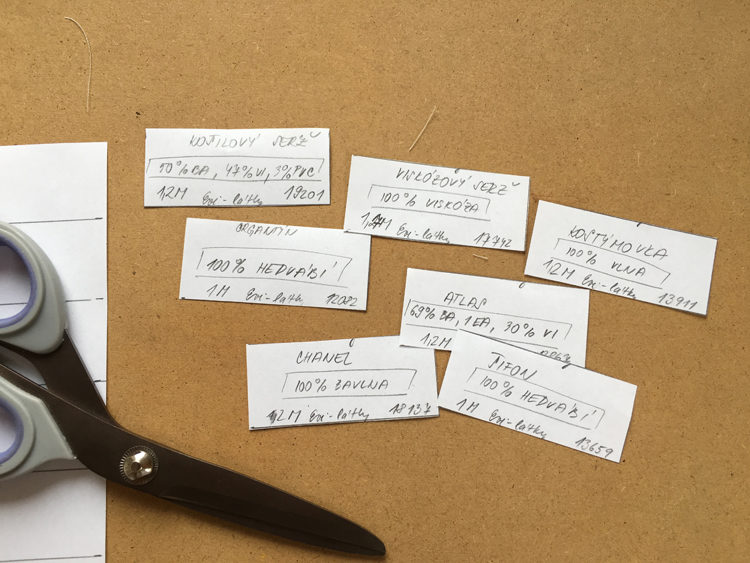 You can pin the labels to the fabrics, but I don't recommend doing this. Pins could tear your fabrics while sliding them in and out of the storage shelf.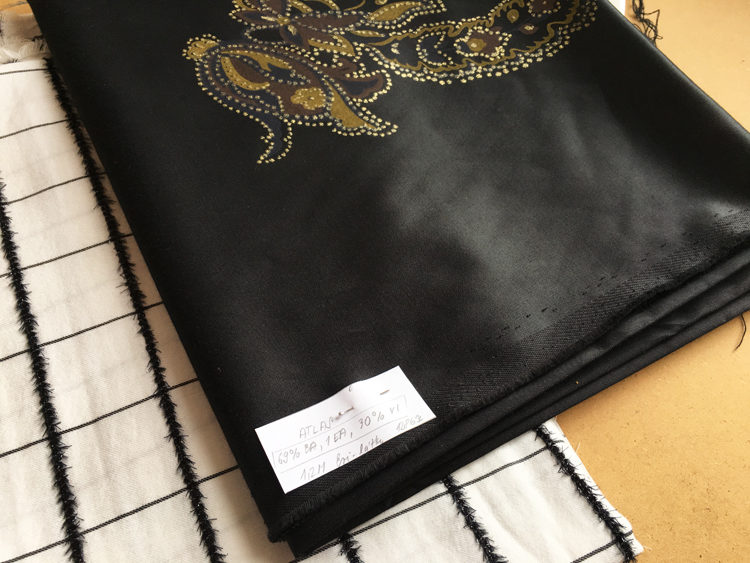 It's much better to get the tagging gun and tag pins. I've had these for a long time and I think I bought them at Stoklasa.cz, but I'm not quite sure. Anyway, they offer the tagging gun and tag pins:
These tools can help you to label the fabric without damaging it. Always attach your labels to the firm edge of the fabric so that the label is immediately visible and not hidden somewhere in the fold.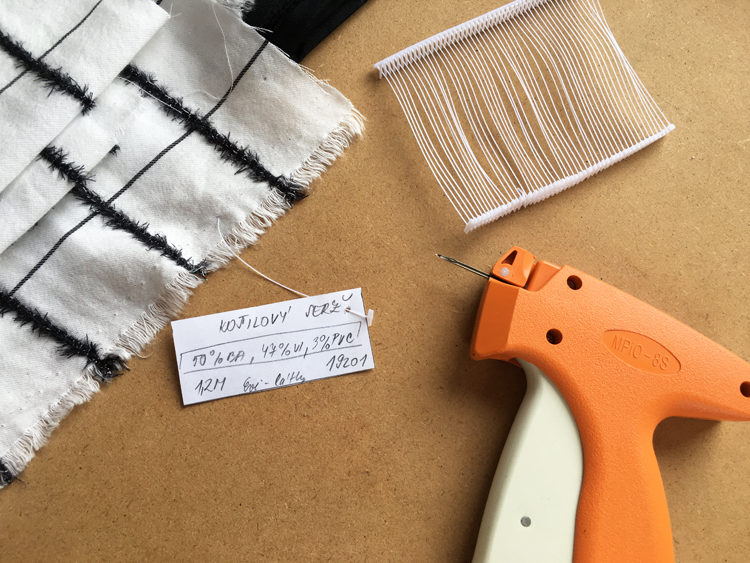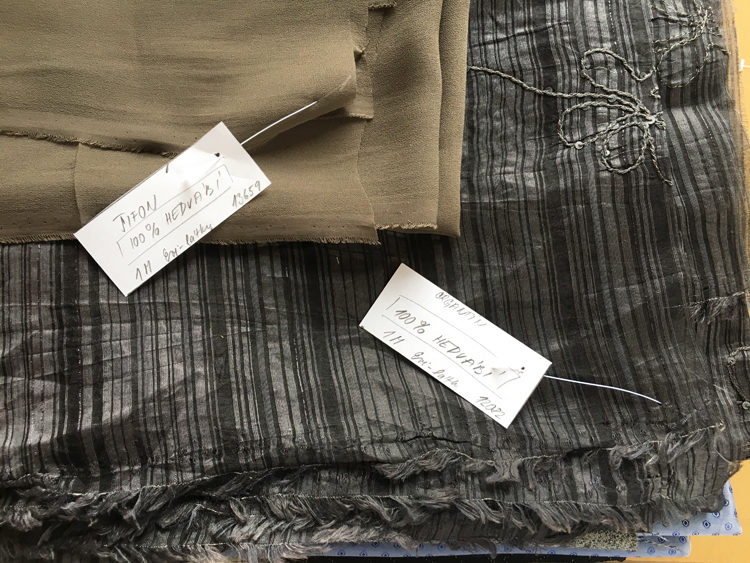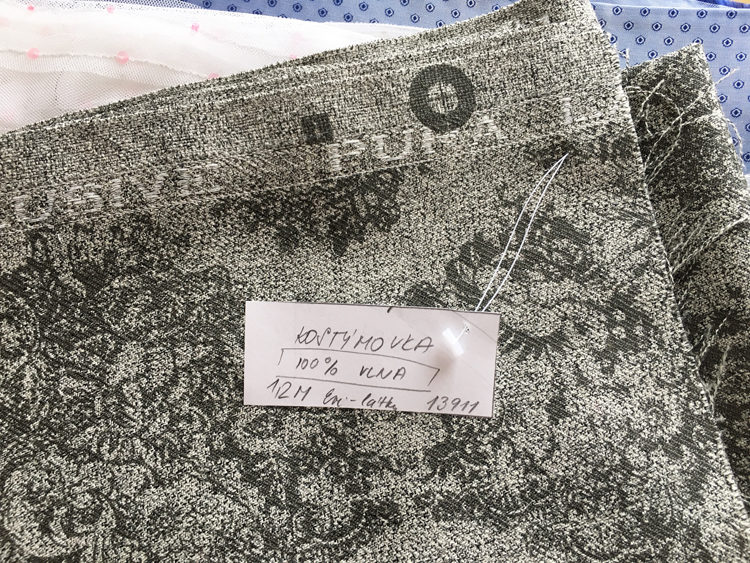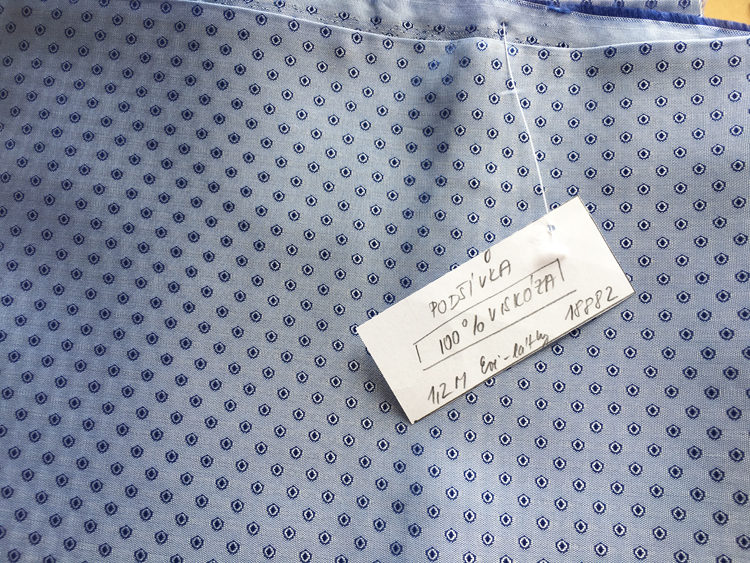 Different storage methods
Where to put your sorted and labeled fabrics? That depends on how much space you have available and how much of it you want to dedicate to your fabrics.
Storage racks
Sewers often have a basic storage racks and shelves for this purpose. You can get storage racks from various home improvement stores, Ikea and so on. The problem is that those shelves are often very large (wide), so it can be hard to keep them nice and tidy - fabrics slide out of their columns, etc. I don't consider this nice or practical and there are other options.
Storage boxes
You can use various storage boxes and crates to store your fabrics. For example, I use these plastic transparent boxes with lids. They are useful because you do not have to open them to see what's inside. You can store smaller boxes under the bed or in the closet, which is great if you have no permanent sewing corner or workshop.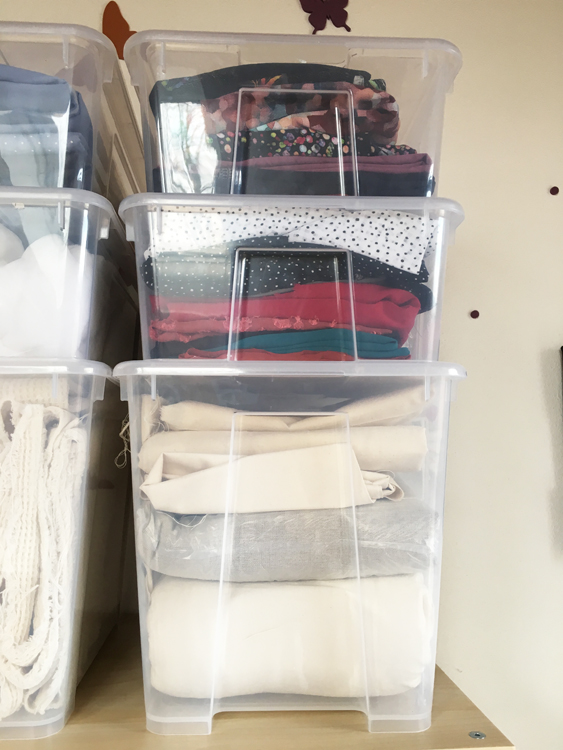 Cabinets with open shelves
This looks nice, but it's not ideal (especially if your cabinet faces south, southeast or southwest), because the fabrics fade when exposed to direct sunlight for extended periods of time. Those exposed folds will be a little lighter than the rest of the fabric after a while and you will end up with discolored stripes on your precious materials. Thin cotton weaves (such as shirt fabrics, poplins, blouse fabrics, etc.) are particularly sensitive - light can penetrate up to four layers deep. Be careful, sun can easily destroy your entire stock, because this damage is irreversible. Material with this type of damage may suitable for some patchwork project, but that's about it. Fortunately, my workshop faces north, so my fabrics are safe from the sun's rays. However, I do not recommend long-term storage (6 months or more) in open shelves in bright rooms.
The second thing is that sewing creates a lot of dust. Although it may not seem so at first glance, a small amount of textile fiber dust accumulates on everything in the sewing workshop. So over time your stored fabrics may become very dusty. This is also the case if you live near the road. We are almost completely surrounded by the forest, so fortunately we do not have that much dust around…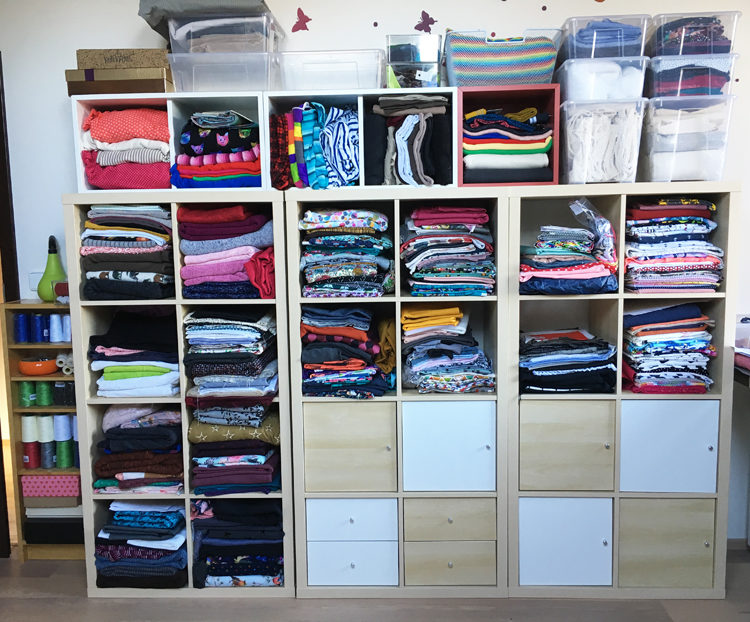 Boxes in shelves
Boxes tucked in open shelves are a fairly good solution. You can deal two problems at once if those boxes aren't transparent. The substances will not be dusty and there is no danger of fading. The only problem is that you don't see what's in the boxes right away. You can label the boxes, but it can get annoying if you have a lot of them, because you will still need to go through them to see what you actually have in stock. Especially if you want to find particular fabric. I use such boxes for the scraps and balls of yarn (I knit and crochet besides sewing). ?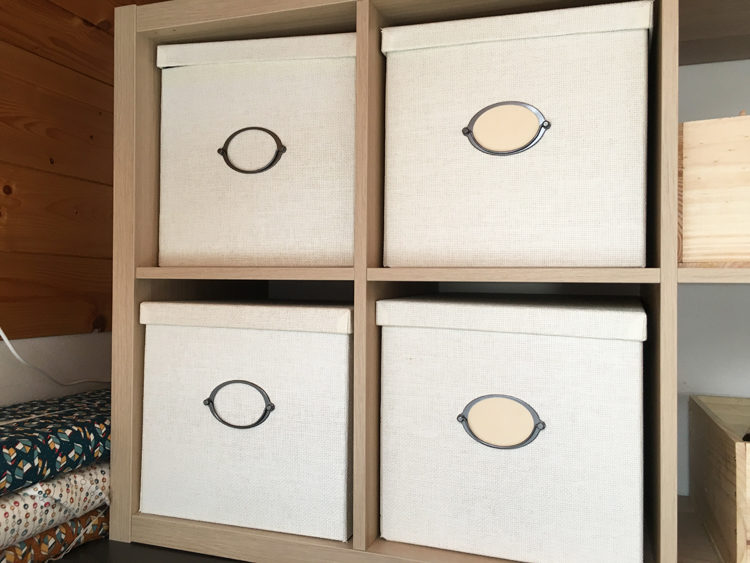 Boxes are just perfect for scraps, because you can tuck them away and tidy up your sewing space. When you need scraps (for pockets, etc.), simply take out your scrap box and find some. A good idea is to have one box for scraps of weaves (rigid materials) and one for scraps of knits (elastic materials). I do not throw away almost nothing. Scraps are great for pockets, facings, hemming and so on. And when I feel that I have too much scraps, I donate them to kindergarten. Kids can use them for various arts & crafts projects there.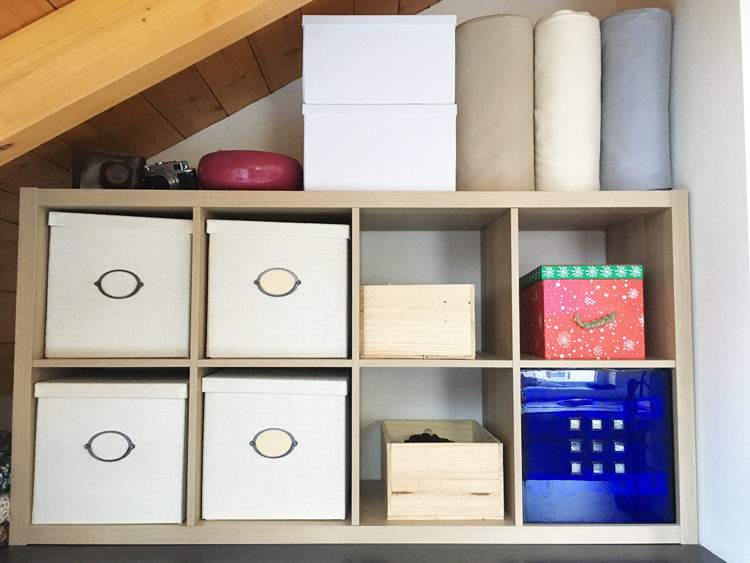 Closed shelves
I see closed shelves as the best way to store fabrics.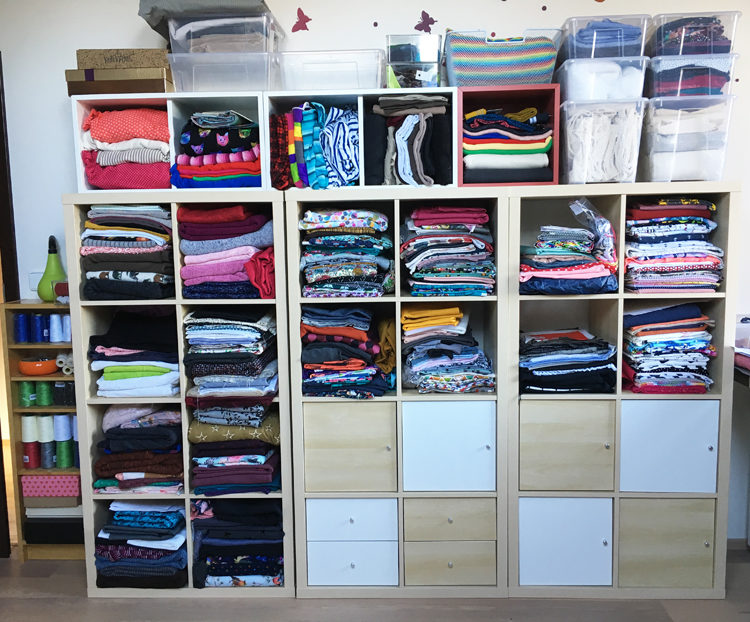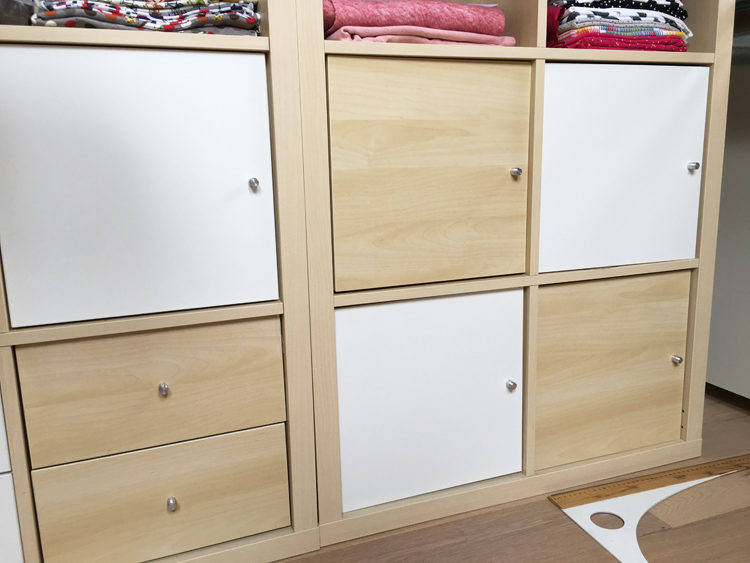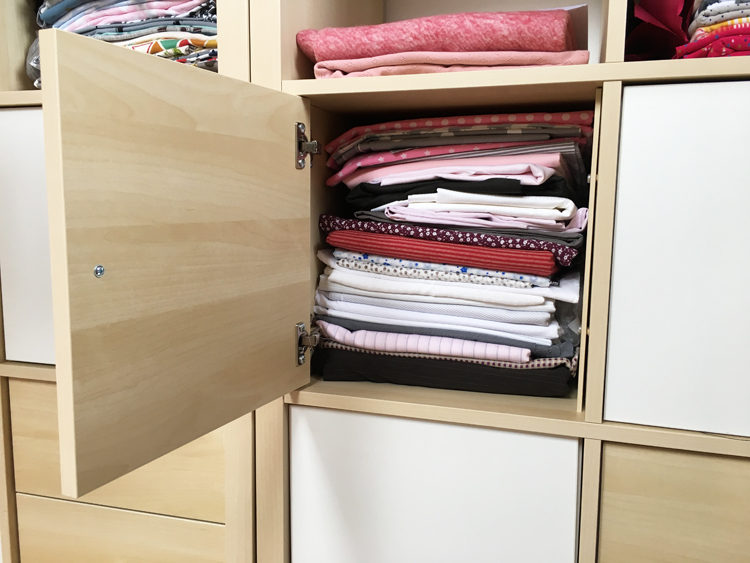 As you can see, the open shelf is filled with my shirt fabrics. I have other shelf only for lining, different one for various fine fabrics (chiffons, organdy, tulle, etc.). In the next shelf I have my precious luxury fabrics. I store Chanel bouclé which I brought in Milan there, for example.
You can't see what's in the shelves right away, but you can simply open them and take a look. It's better than boxes in shelves that you have to pull out, rummage through and then stuff everything back inside.
Moreover, if you are not exactly as meticulous as I am, you'll appreciate that the closed shelves always look tidy. (Even if your mother-in-law suddenly decides to visit you... ?)
So that's all about storing fabrics, next time we will look at how to store paper patterns. I have already begun to write article about this topic so you can look forward to reading it here soon.
I hope that this article inspired you at least a little bit, and If you want to take a look at more great ideas for sewing workshops, check out my Pinterest, where I created a board called: Sewers workshops – inspiration.
Have a nice day, Peťa