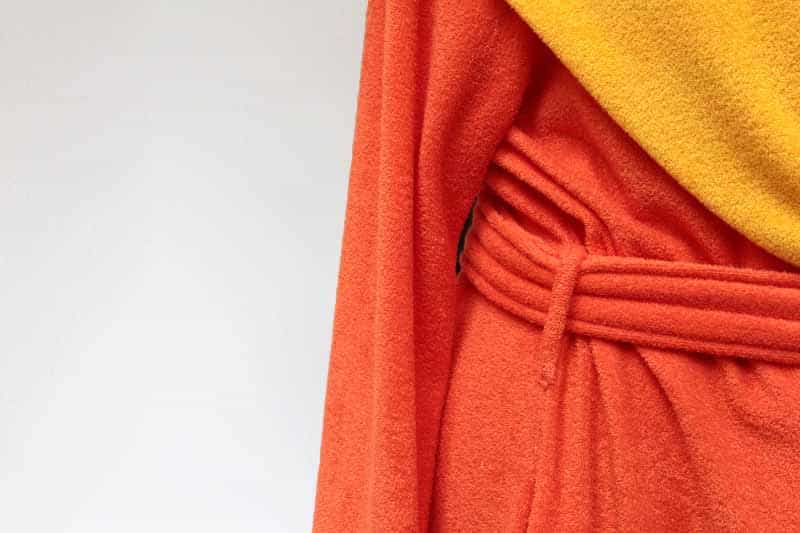 A few days ago, I finished a custom bathrobe for one of my customers, which I sewed from bamboo terrycloth. So today I bring you some tips on sewing terrycloth.
First of all, we need to know what terrycloth actually is. Terrycloth is a type of woven fabric. It is special in that its warp threads form extra loops at regular intervals. The ability of a given piece of terrycloth to absorb moisture is determined by the height of these loops, their density and whether they lie above, below or on both sides of the base plane of the fabric.
The easiest way to estimate the absorbency of a terrycloth is by looking at its weight. The density / length of the absorbent loops increases with increasing weight. The heavier the terry cloth, the more water it can absorb.
When you see cheap - almost transparent - towels in the store, you can be sure that they will not fulfill their purpose well. On the contrary, heavy densely woven terrycloth will absorb large amounts of water (aaah those soft and heavy bathrobes in the spa... :) )
You can learn more about terrycloth and various other types of textile materials here: Types of textile materials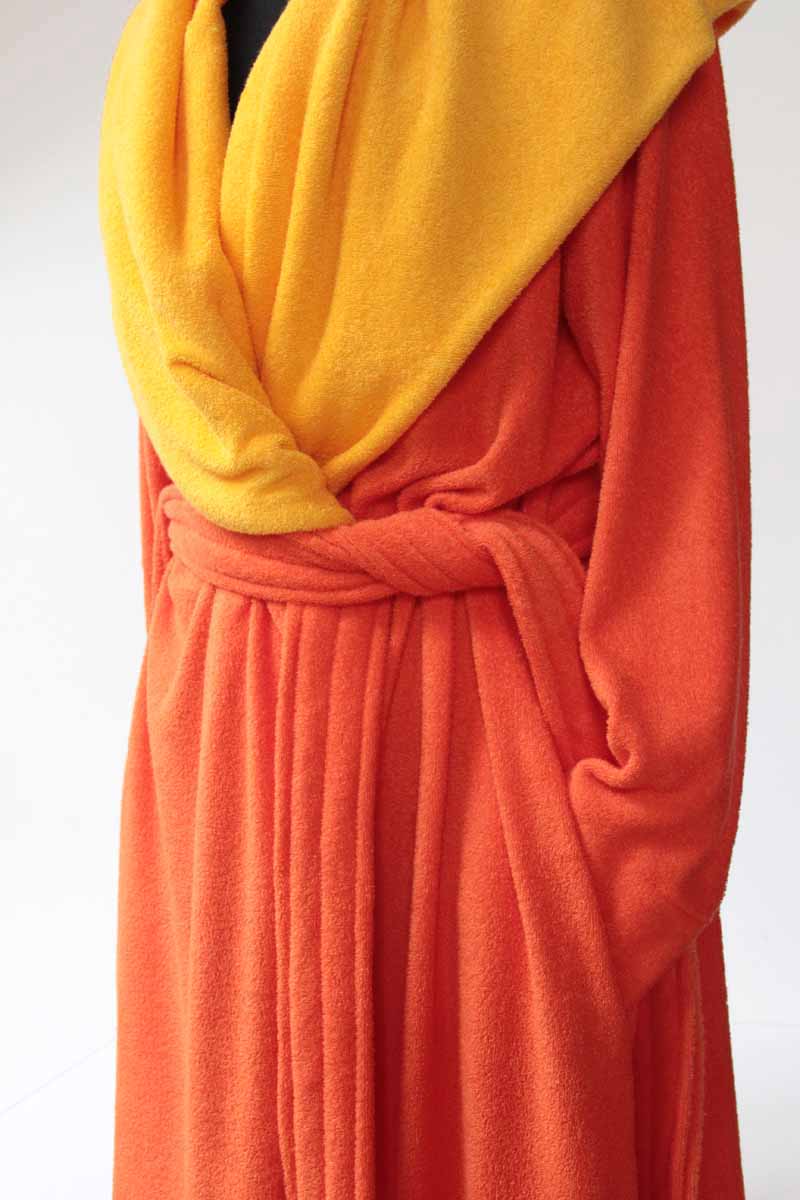 Now we know what terrycloth looks like and why it absorbs water, so let's look at how to work with it. Imagine that you put a piece of terrycloth - a fabric with a lot of small loops - on your table and you cut it into it. I'm sure you can guess what's going to happen - all those tiny loops will get cut and they will fall out. Terrycloth frays and sheds a lot when sewing. Therefore, you should first hide things that you won't need when sewing. Cover your printer, PC, TV and so on with fabric to protect them from dust.  Set aside enough time to work with terrycloth - if you have to run back and forth for various reasons, you will end up with an apartment full of loose loops. You shouldn't also wear anything fancy.
Note number one - sewing terrycloth is messy!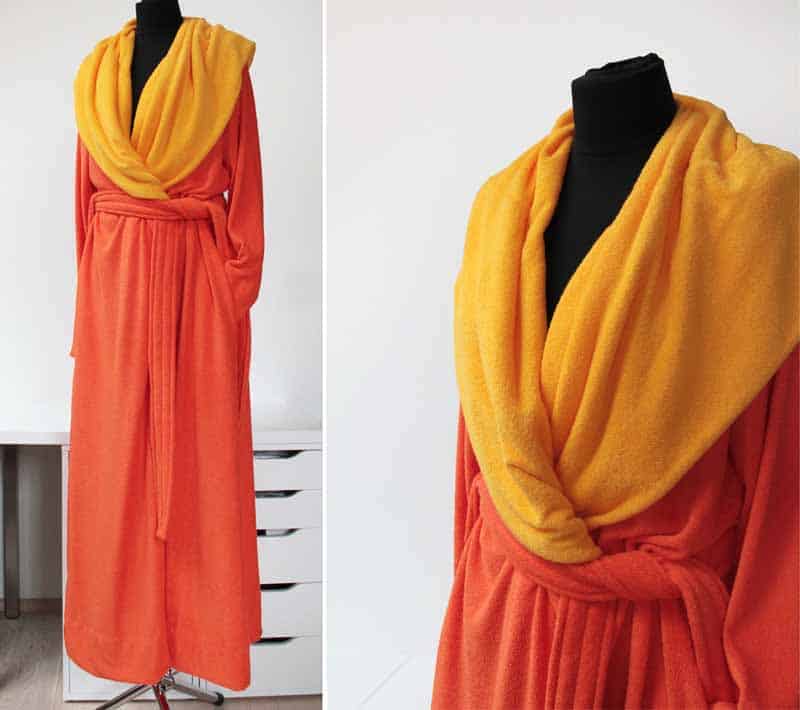 Clean cutting edges thoroughly. I recommend using an overlock set to dense stitches, but you can also use a bias tape, for example. The third way would be to double-fold the edge of the fabric and finish it on a regular sewing machine.
But:
this entails sewing through three layers of a thick fabric - your machine might not be able to handle it,
loops can get stuck on feed dogs,
due to this, the fabric may not be able to pass through your machine easily / evenly.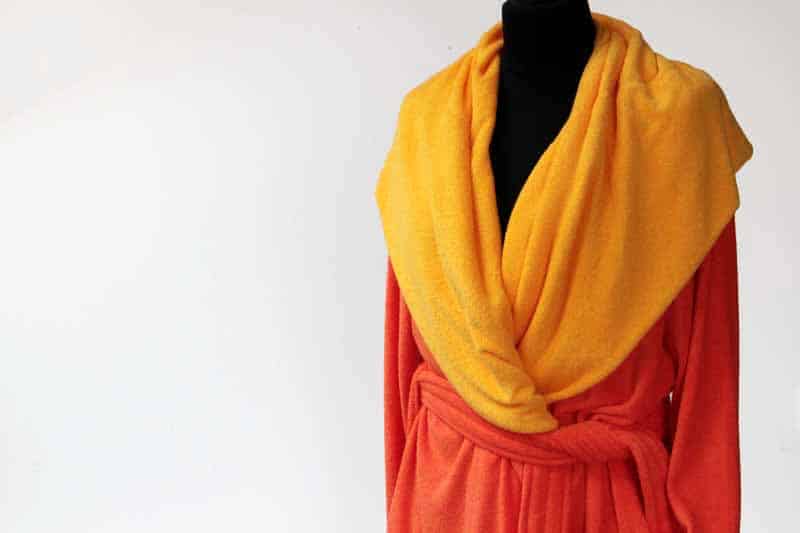 Note number two - the hems need to be cleaned thoroughly and sewing through multiple layers on a regular sewing machine can be difficult. Before sewing, test your machine on a small piece of terrycloth.
If you plan to sew towels, tea towels or something similar (simple), the following information won't probably be essential. But if you want to sew, for example, a bathrobe or warm winter pyjamas, then you should reckon with the fact that you may have to rip some of your seams (mistakes happen). When sewing more complex pieces, I recommend using a contrasting thread. Choose one that will go well with the color of your terrycloth, but make sure that the contrast is there - you want to be able to see the thread. When sewing, the thread hides between the loops and it is relatively difficult to find it later. There is nothing more annoying than having to look for a white thread between the white loops of the terrycloth.
Note number three - sewing also includes seam ripping, for these cases it is advisable to use a contrasting thread when sewing terrycloth.
And if you've gotten this far, and you still want to sew terrycloth, then I'm keeping my fingers crossed for you! Don't worry, I'm sure it will turn out well. Go fo it! :)
Have a nice day,
Peťa