I have a new video tutorial for you! It will show you how to sew a half circle skirt. You will learn how to take measurements, how to design the pattern, and, of course, how to sew the half circle skirt. There are many ways to design and sew a half circle skirt, but the one I'll show you today is very effective and simple at the same time. In my opinion, the knee-length half circle skirt is a timeless piece and should not be missing in any woman's wardrobe. This type of skirt will probably never go out of style, and it looks very feminine, regardless of the body type.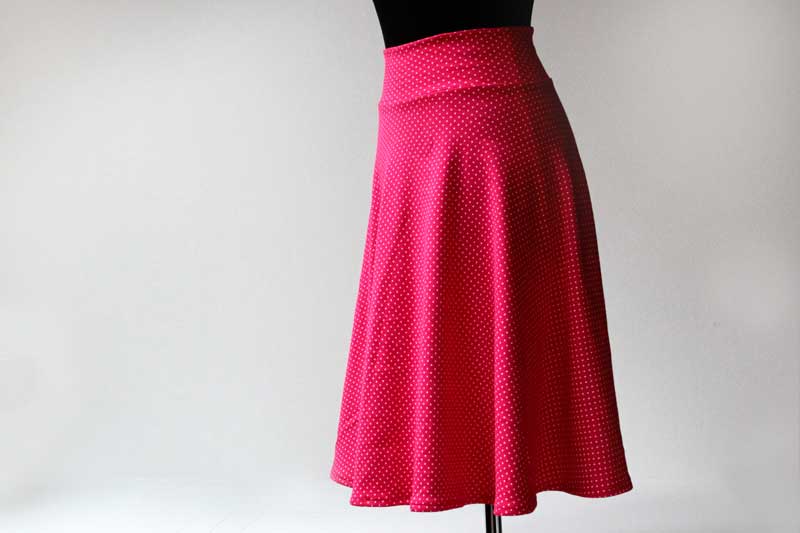 You can use this procedure not only when sewing a women's skirt, but also when sewing a girl's / children's skirt.
Video tutorial
You can find this video tutorial on my YouTube channel along with many other interesting sewing videos. If you don't want to miss any news, don't forget to click on the "Subscribe" button below the video.
For this project I chose an elastic material - BIO double knit made in the Czech Republic (100% cotton) - thanks to which the skirt should be very comfortable. You can replace the waistband with a wide decorative elastic band, or hide an ordinary elastic band in the tunnel at the waist. If you choose knit with elastane for the waistband, it should not stretch out too much and you shouldn't need to add an elastic band.
The high-quality material of muted color guarantees you a universal, timeless piece that you can wear on various occasions for years to come.
Have a nice day, Petra