I just love this pattern for simple women's cardigan! It is so simple that it is absolutely brilliant. No buttons, no complicated details. This cardigan is suitable even for absolute beginners. Those of you who are no longer beginners will appreciate the fact that sewing takes only a few minutes. You can really relax with this pattern. It is so simple that you can sew it while your children take a nap after lunch… The pattern for women's cardigan RAW EDGE is available in sizes 32 – 48 and you can get it here:
Pattern for women's cardigan RAW EDGE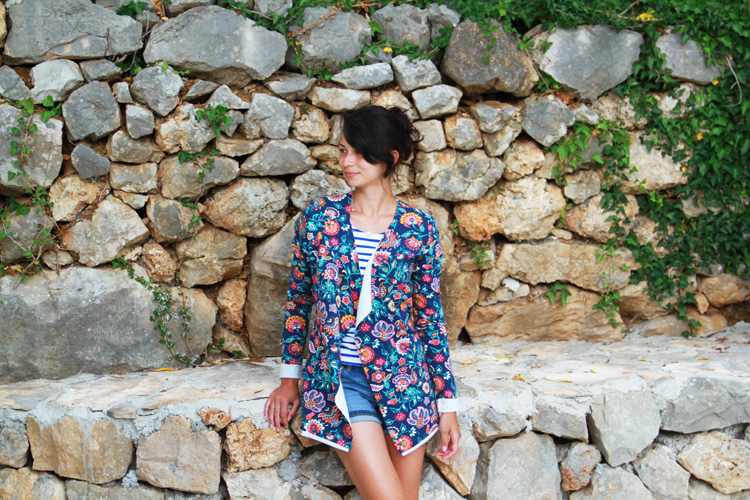 Recommended material
Choose some knit of medium thickness for this cardigan. You can use elastic tracksuit fabric, Ponte Roma fabric, elastic leather imitation, scuba fabric, etc. I recommend using fabric with neat cutting edges.
I've used thinner combed tracksuit fabric from Unuodesign.cz: Combed tracksuit fabric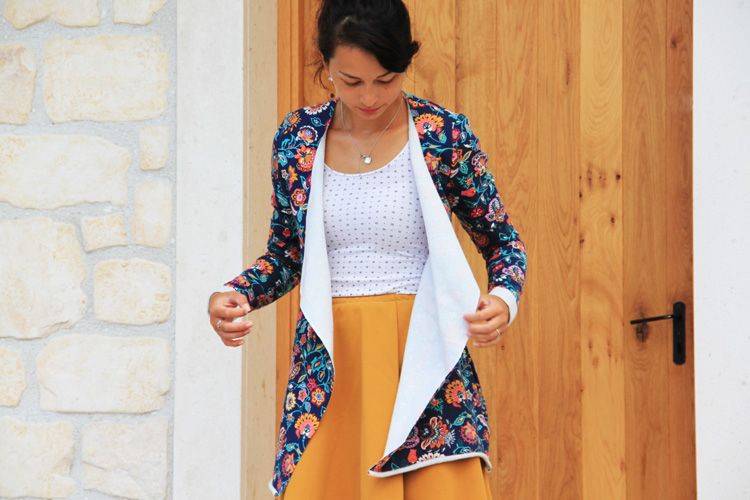 Pattern for women's cardigan
The pattern also includes pieces for simple patch pockets. You can easily add those to your cardigan if you want to. Today's article is about the super simple version without pockets and I will show you version with pockets next time.
This cardigan should reach somewhere below your buttocks, so you can wear it with skirts, dresses, pants, and shorts.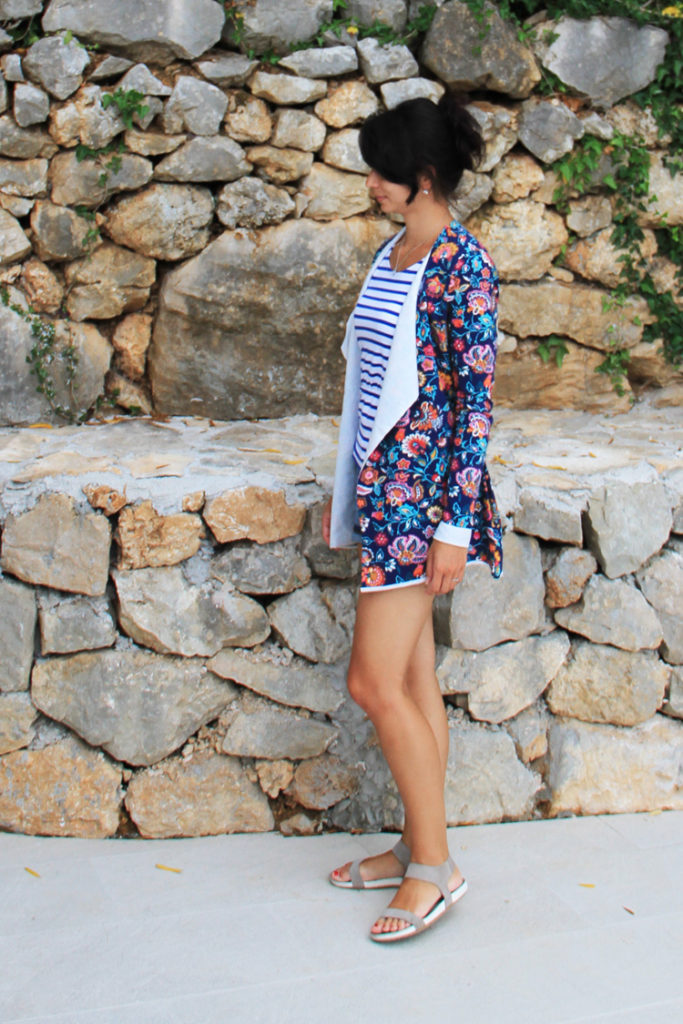 How to sew the cardigan
As I said, it's really simple!
Just don't forget to adjust your sewing machine for elastic fabrics if you aren't going to use an overlock. You can learn more about that in this article:
Sewing elastic fabrics with regular sewing machine – 4 steps to success
Cuts preparation
According to the paper pattern prepare:
2x front piece
1x back piece (folded fabric cut)
2x sleeve piece
Sewing
Let's do the shoulder seams first. Spread the back piece on the table (face side up). Lay one of the front pieces over the back piece (face side to face side) and pin its shoulder seam. Sew the shoulder seam. Sew the other front piece in the same way.
Now pin first sleeve to the open armhole. Align top part of the sleeve (marked in the pattern) with the shoulder seam. Sew the sleeve to the torso. Do the other sleeve in the same way.
Pin side seams and sleeve seams of the cardigan next. Sew sleeve seam and side seam in one go (do this on both sides).
Don't clean the hems leave them raw. You can wear the sleeves rolled up a bit.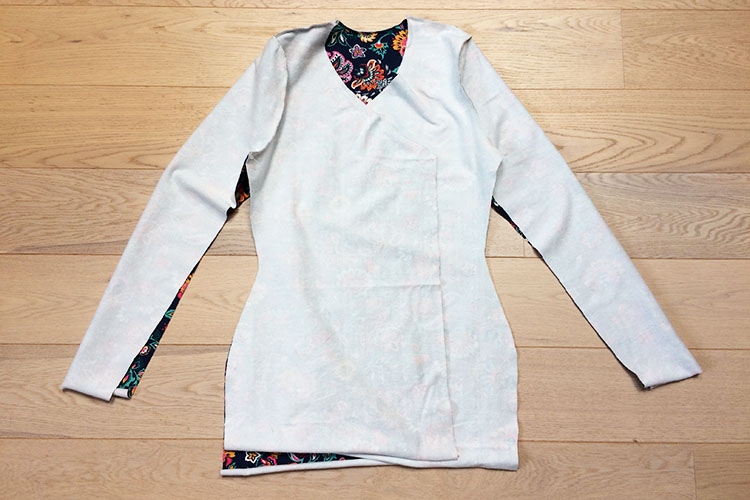 That was really quick, huh?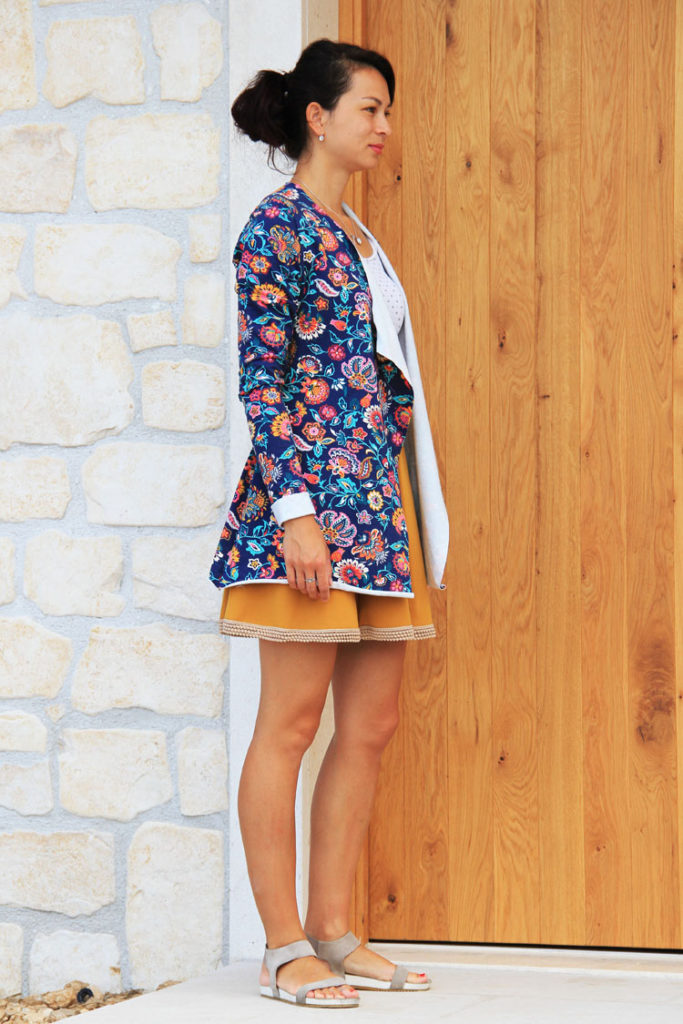 How do you like today's tutorial and simple pattern for women's cardigan? Are you going to try it?
Pattern for women's cardigan RAW EDGE
Have a nice day, Peťa!