Hooray! That's what your girls will scream with excitement when they put this skirt on for the first time, it's so flowy and you can twirl it around! And you'll be thrilled too because you can download this skirt pattern for free! Girls' skirt JUNE is basically a circle skirt and is made up of four parts (+ waistband), so it is easy to sew, looks nice, and is comfortable to wear.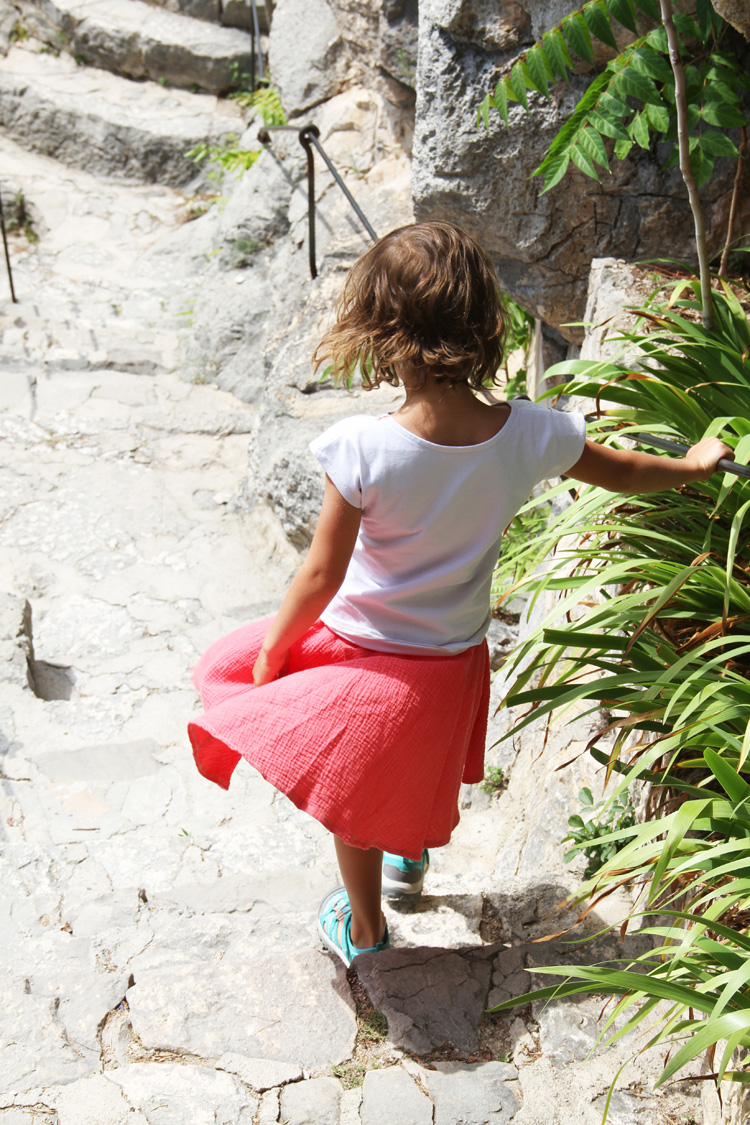 ---
The pattern - Free download
This skirt pattern is constructed in a professional program for clothing pattern development and it is available in sizes 80–164. The pattern is available in PDF A4 and PDF A1 format so you can print it on your home printer or plotter.
I have prepared this free pattern for readers and visitors of my website. If you want to share this pattern with your friends, please do not just send the file itself, but send a link to this article or the site where they can download it for free. Sharing pattern files or their parts on their own is prohibited. If you want to support my website and quality content, please share it with your friends. Thank you for respecting my copyright.
---
Size chart

---
Recommended material
This pattern is designed for light & medium woven fabrics. You can use, for example, American cotton, cotton poplin, Blouse fabrics, etc.
I used this amazing material for the salmon skirt for Terulka: Double gauze. If you don't have experience with this material yet, I recommend trying it out. It's just perfect for summer clothes - it's wonderfully breathable, lightweight, and terribly comfortable. But beware - once you try it, you will fall for it! :)
I bought the material from Dumlatek.cz, here: Double gauze - Salmon. More colors and motifs can be found here: Double gauze.
---
Sewing instructions
The sewing procedure is very simple, so I can recommend this pattern to beginners.
First, you sew all 4 pieces together to form a skirt. Then prepare your waistband, which I recommend folding in half (lengthwise, wrong side in) and ironing.
Sew the two shorter sides of the waistband (right side to right side) to form a loop.
Prepare the elastic - I recommend using a 2.5 cm / 1" wide band. Determine the correct length of the band by wrapping it around the waist of your kid. Then sew the ends of the elastic together to form a loop.
Insert your elastic into the prepared waistband, then pin the waistband to the upper edge of the skirt. Sew the waistband to the skirt.
Fold the bottom edge of the skirt inwards (1 cm / 0.4") and then once more and sew through the folded fabric to make a bottom hem.
The other day Terulka wore this skirt, so I immediately took out my camera to take a picture of her, and then suddenly I see what kind of outfit she is wearing - green slippers and socks pulled up to her mid-calves! :D
Do you like this skirt? Let me know in the comments below what you think of it. :)
Have a nice day, Petra
---
Looking for a women's skirt pattern? Then I have good news for you because I have prepared a free pattern for a women's skirt and sewing instructions for you in this article:
Please note that the pattern for women's skirt SWING is designed for knits and other stretchy materials of medium thickness.
---
Don't forget to share your joy with others!
Do you like this article? If so, share it with your friends and tell us about it in the comments section below. We will be glad for any feedback! ♥
---
PS: Did you know that there are other FREE PATTERNS available on my blog?