Is sewing a zipper your nightmare? Can't sew nice straight zippers on the first try? Do you avoid patterns with zippers? Well, today I want to show you a tool that will help you sew beautiful zippers. Thanks to this small gadget, zippers will no longer be an obstacle for you when choosing a pattern. I'm talking about Stylefix tape, which is a double-sided adhesive tape for textiles. Beginners will probably appreciate it the most, but it can also make life easier for experienced sewers.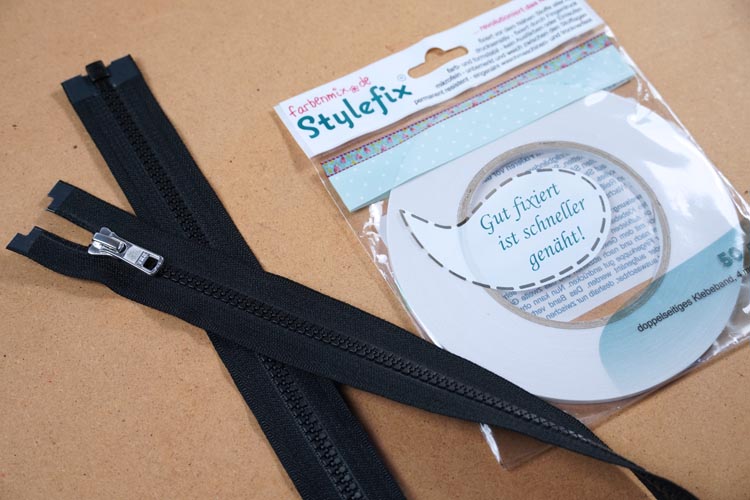 This is a new thing in some countries, so it may be a bit difficult to get. I used to buy it from abroad for a lot of money, but nowadays it is commonly available in Czech stores as well.
I bought my tape here: Stylefix - Adhesive tape.
What is Stylefix tape?
It's a thin double-sided sticky tape that dissolves during the first washing cycle. It just disappears. You could say that it is simply a strip of water-soluble glue... Thanks to this tape, you can attach the zipper to the fabric before sewing without having to pin or baste it. The tape then holds the zipper firmly in place, making sewing easier, faster, and more precise. That is why it's great for beginners or for those who are still a little bit afraid of zippers.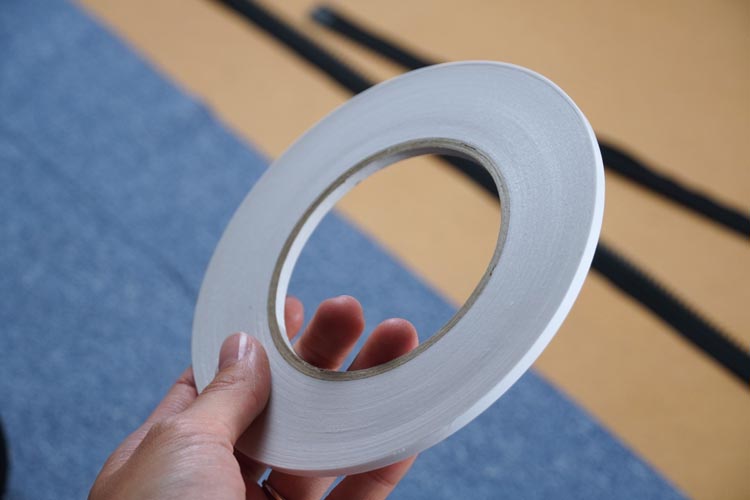 How to sew a zipper using Stylefix tape
I used the tape, for example, when sewing the zipper of this simple softshell jacket. You should use clamps when sewing softshell (instead of pins) and it is sometimes very difficult to attach the zipper with clamps.
I applied the tape to the edge of the left front piece.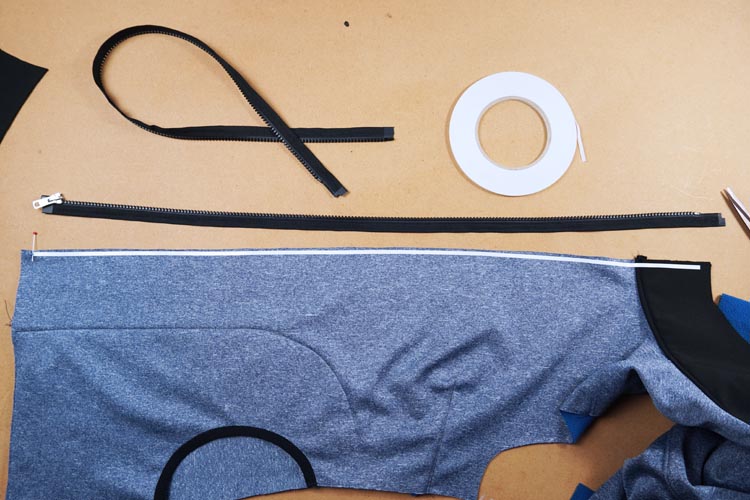 Then I removed the paper (non-adhesive) part of the tape and only a strip of glue remained on the jacket.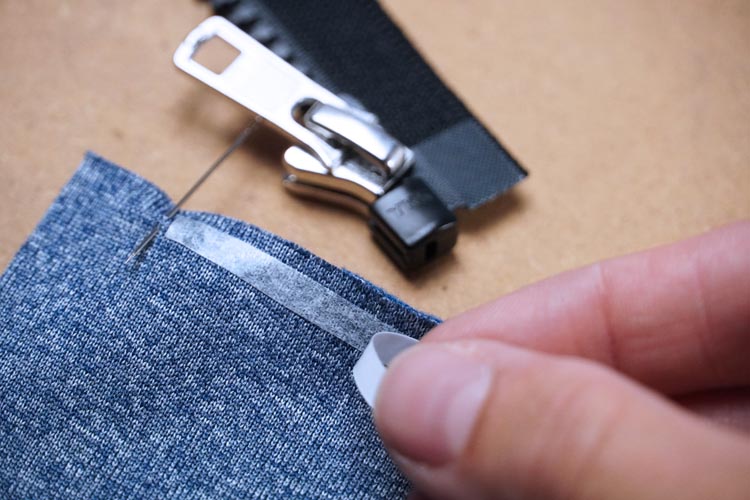 I then simply put the zipper on top of the tape.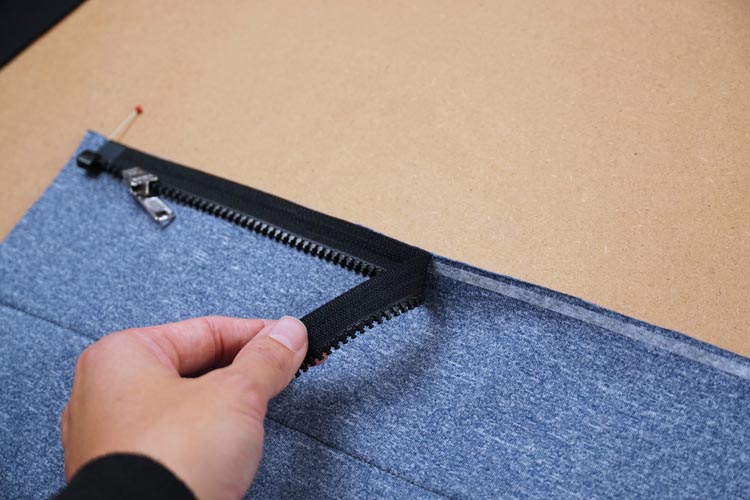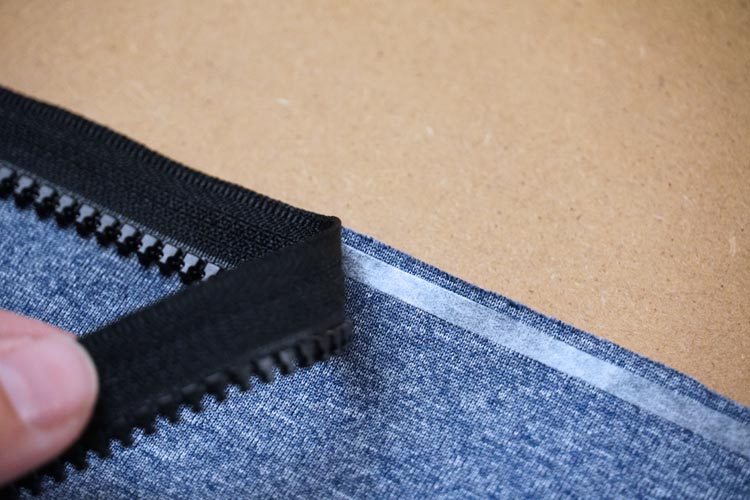 The picture below shows how the zipper is attached to the jacket. Even if it is not sewn yet, it stays in its place, so you can easily handle the garment without having to worry about the zipper slipping away.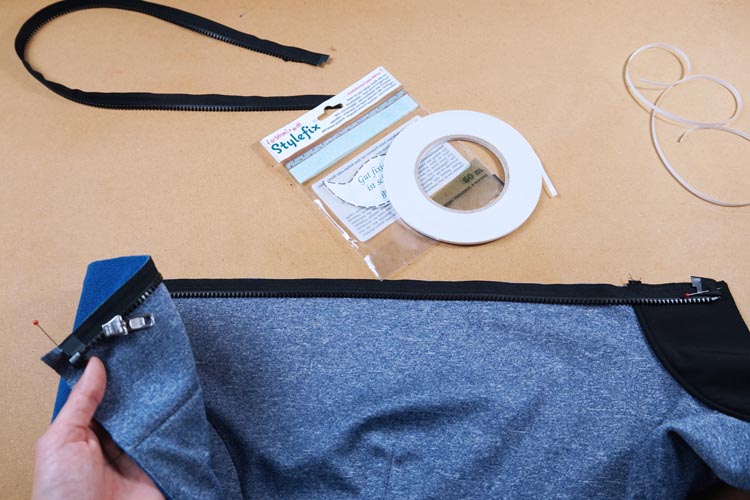 Now you can just sew the zipper. The tape holds the zipper in place when it passes under the presser foot, making it much easier to sew a straight zipper on the first try.
My tip:
Stylefix tape is a glue - it will stick to your needle when sewing. I have two solutions to this problem. Either use an older needle and discard it after sewing on both sides of the zipper or try to stick the tape to the very edge of the piece and sew very close to the teeth of the zipper. With a little practice, you will be able to sew next to the Stylefix tape and the needle and other parts of the machine will not come into contact with the glue at all.
If you liked this article, you might also like other articles dedicated to zippers:
Do you like this article? If so, share it with your friends and tell me about it in the comments section below.
I look forward to your feedback! Have a nice day, Petra ♥
---
PS: Did you know that there are FREE PATTERNS available on my blog?