I designed a simple pattern for a women's close-fitting T-shirt with modern ultra-short cap sleeves. The T-shirt is great for ladies who like to wear tight tops, but also for athletes because you can use stretchy sports fabrics. Yoga, anyone? :)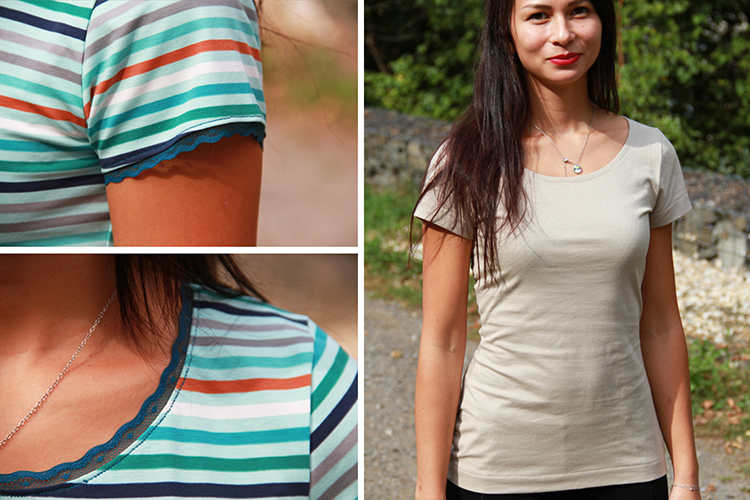 ---
---
Recommended material
The ideal materials are very elastic fabrics. You can use a thin viscose knit, which is very stretchy, or, for example, thin cotton knit with elastane or lycra (at least 5%). Elastic "sports" materials also work well. You can choose, for example, a premium functional knit, microfresh knit, swimwear knit, etc. Your material should contain at least 5% elastic fibers (elastane, lycra, etc.), but ideally 8 - 12%, and around 20% for sports T-shirts.
---
Sewing instructions
I have already written detailed instructions on how to sew a T-shirt in these articles:
How to sew a T-shirt - Everything you need to know
How to sew a T-shirt a few minutes - Industrial sewing method
How to add a patch pocket to a T-shirt
How to work with striped fabric:
This video can also help you:
If you are going to use a knit strips for hems of the T-shirt, I recommend cutting 1 cm (3/8") of fabric from the neckline - ie sewing without seam allowance.
If you want to sew lace hems, here are a few tips...
How to sew a lace hem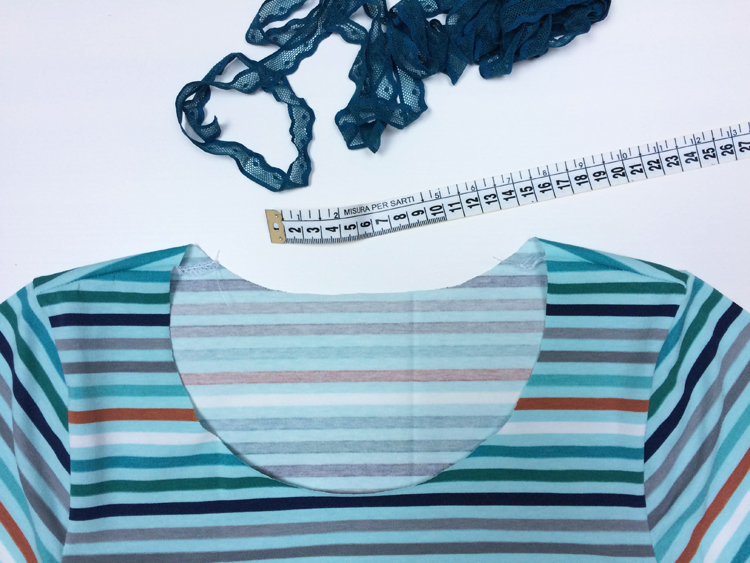 Always use elastic lace. It should be neither too wide nor too narrow. Too wide lace will curl and "peel off", the narrow lace is difficult to work with, and if you miss the seamline, it can stay hidden under the edge of the T-shirt. You have to find the ideal width of the lace yourself. Try what works best for you. However, the lace should not be wider than 3 cm (1 1/4"). I usually use about 2 cm (3/4") wide laces.
Measure the length of the entire neckline (or other hems) with a tailor's tape standing on its edge.
Multiply the length by about 0.9. This number depends on the specific lace you use - if it seems very elastic, you can multiply 0.8 or 0.85, for example. The result is the length of lace you will need. Cut the required amount of lace.
If you start with a closed neckline (both shoulder seams are finished), sew the ends of the lace to create a circle. This is a very short seam, which may be difficult to sew on a sewing machine, so you may want to do it by hand.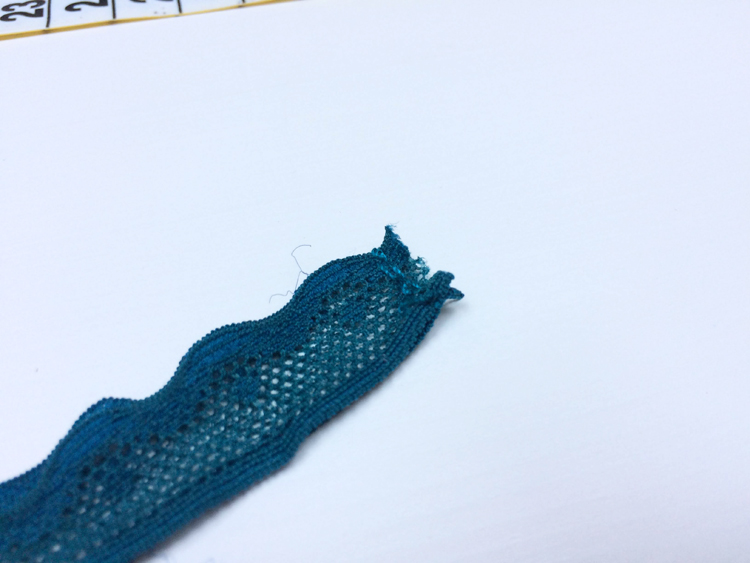 Carefully pin the lace to the neckline and sew it with an elastic stitch. I used my overlock machine. But you can also use a regular sewing machine & some elastic stitch.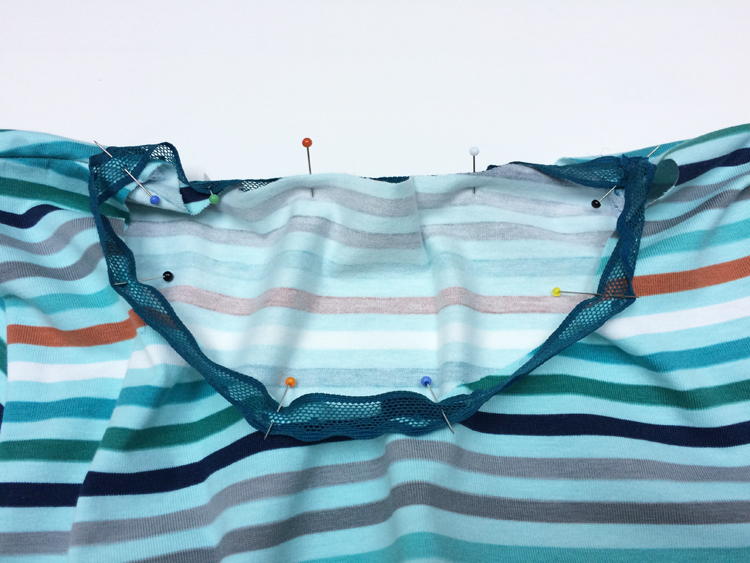 To prevent the lace from "rolling" into the inside of the T-shirt, I recommend topstitching the whole neckline with an elastic stitch. First, carefully iron the neckline (including the lace). Press the seam allowances away from the lace (towards the T-shirt). Then topstitch about 3 mm (1/8") from the original seam with an elastic stitch (for example with a three-step straight stitch).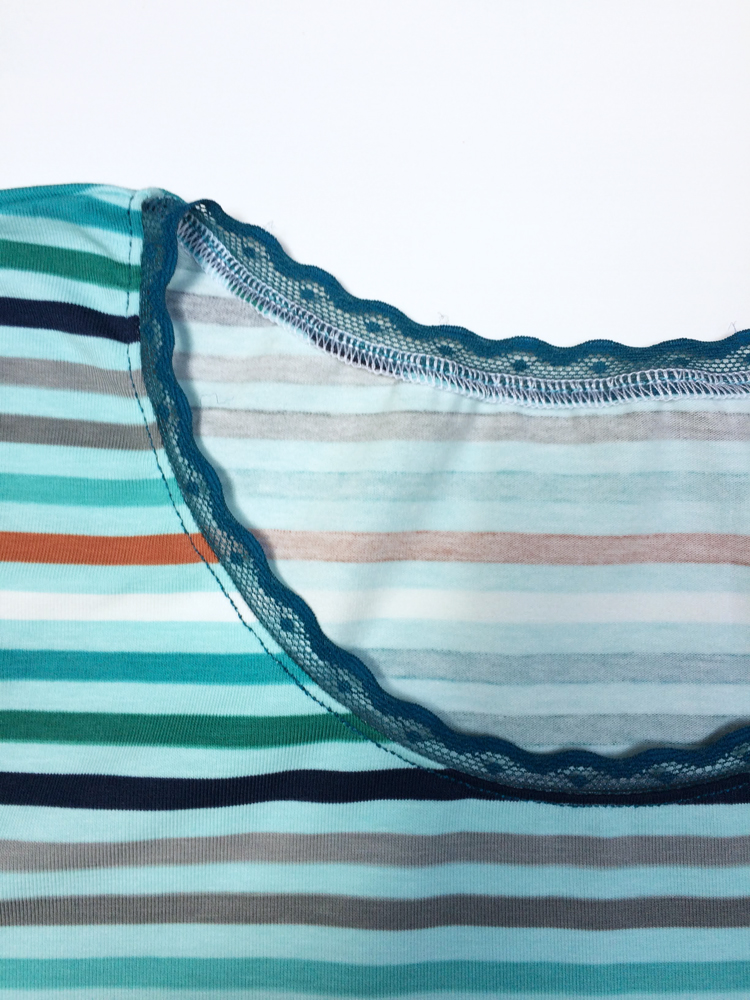 The same procedure is used for lining the sleeves. Prepare the sleeve pieces with only 1 cm (3/8") wide seam allowance at the bottom. Then cut a piece of lace that is as long as the circumference of the bottom edge of the sleeve. No calculations here... The rest is the same as for the neckline.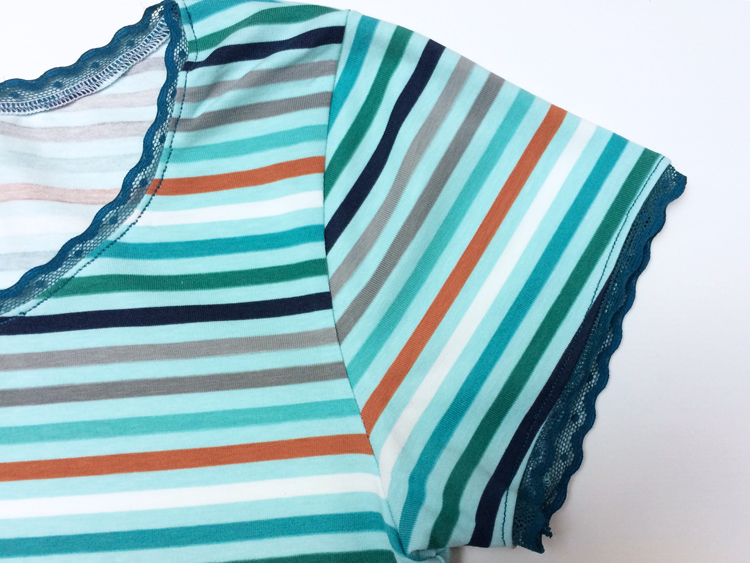 And that's it. If you want to take a closer look at the pattern for women's T-shirt FIT, click here: Women's T-shirt FIT.
And if you're interested in other ways to sew hems, you can continue with one of the following articles.
Neckline hem - Other methods:
Have a nice day, Petra
---
Don't forget to share your joy with others!
Do you like this article? If so, share it with your friends and tell me about it in the comments section below. I will be glad for any feedback! ♥
---
PS: Did you know that there are FREE PATTERNS available on my blog?