I have published a total of three sewing tutorials for the pattern for the skirt pattern RACHEL and this article serves as a kind of signpost that makes it easy to get to all the tutorials.
Below you will find links to three articles that deal with different sewing techniques and the use of different materials. As you can see, you can sew many different skirts using just one sewing pattern.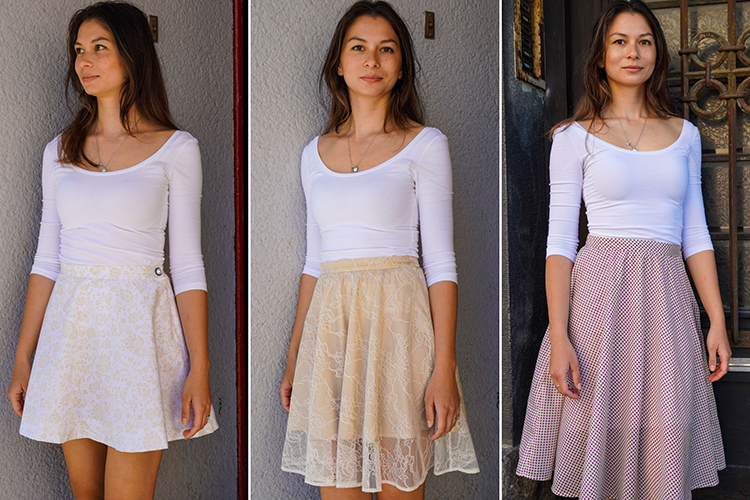 ---
The pattern
This pattern contains pieces for three skirt-lengths (mini, above the knee, and knee-length). You can use the same procedure to sew all three lengths. Therefore, you can sew the skirt in different lengths according to these tutorials and you don't have to choose the same length as I did in each of them.
---
Sewing instructions
All tutorials for this skirt can be found here:
---
Recommended material
If you are sewing a skirt according to this pattern for the first time, I recommend a good quality light cotton canvas (American cotton canvases are great) or cotton poplin...
Other suitable fabrics (for the outer part of the skirt):
Light and flowing woven fabrics such as:

American cotton canvas
Blouse fabrics (airy and flowing)
Laces - High-quality lace makes a beautiful lightweight skirt, but you need to add a lining to the mix. I generally like to use natural materials, so I highly recommend viscose linings for example - they wrinkle easily but are breathable and so very comfortable to wear. (If you use synthetic lace & lining, you may feel uncomfortable and sweaty in summer…)
Chiffon - Great for summer skirts. I recommend you try this material at least once. Working with chiffon requires some practice and patience, so I do not recommend this material to beginners. But with a little effort, you can sew incredibly beautiful chiffon pieces. Instructions on how to work with chiffon and other fine fabrics can be found in this article: How to sew fine fabrics
A huge selection of quality materials suitable for this skirt can be found at Dumlatek.cz
Suggestion
Not all cotton canvases are suitable for skirts. Avoid cheap and poor-quality canvases - they are usually too rigid (not flowing), bleed color, and become faded after just a few washing cycles. Fibers of low-quality canvases tend to break during washing, creating permanent creases.
Cotton canvases aren't as flowing as poplin, or blouse fabrics and chiffons. That's why cotton canvas skirts are not so flowing and look a bit bulkier. If you are afraid that your skirt will look "boxy", choose a poplin, blouse fabric, or chiffon. In the photos below you can see photos of skirts that are sewn according to the same pattern, but I chose a different material for each one. You can see how changing the material can significantly affect the overall look of the skirt.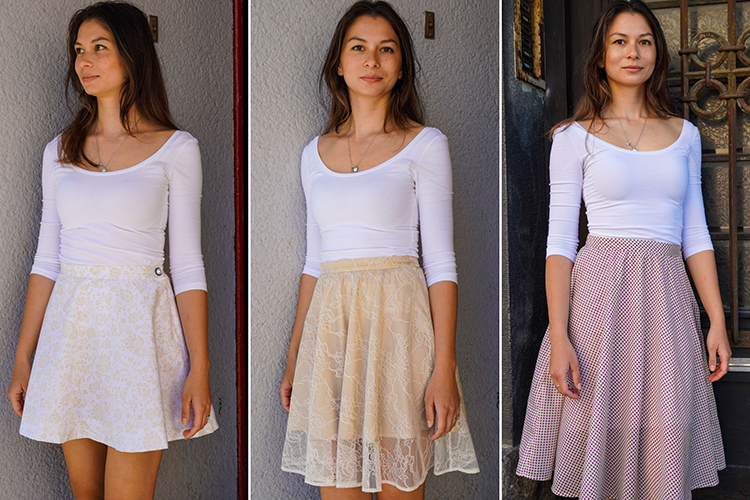 Have a nice day!
Petra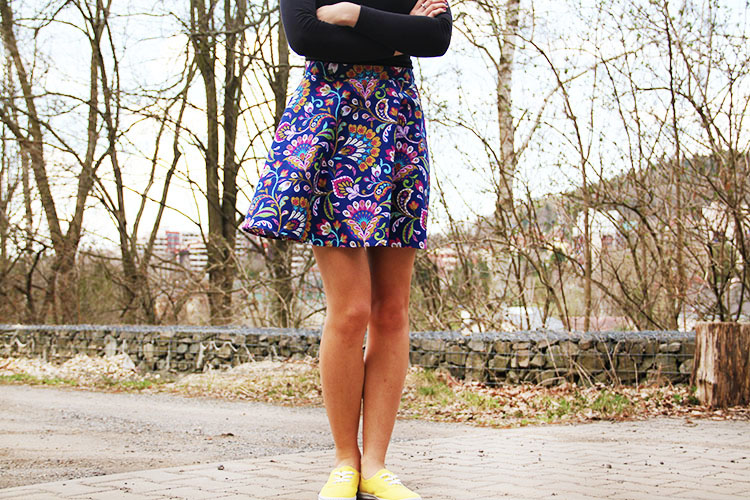 ---
Don't forget to share your joy with others!
Do you like this article? If so, share it with your friends and tell me about it in the comments section below. I will be glad for any feedback! ♥
---
PS: Did you know that there are other FREE PATTERNS available on my blog?