Pattern for women's panties (6 variants)
+ Free sewing course
Patterns for women's panties are constructed in professional program for clothing pattern development and they are available in sizes 32 – 46 and 48 – 60 (find size chart below).
The pattern is in PDF format (divided to A4 pages) and it will be sent electronically to your email after purchase.
Variants:
BASIC – classic pattern, shaped back piece and higher waist. Sizes 32 – 60
BIKINI – classic pattern, straight-cut back piece and lower waist. Halved back piece (but you can use whole piece too), you can sew the front part from several pieces (yoke & other pieces) Sizes 32 – 60
HIPSTER – low waist and pronounced curves. Halved back piece (but you can use whole piece too). Sizes 32 – 60
BOXER SHORTS – longer side seam and lower waist. Halved back piece (but you can use whole piece too).  Sizes 32 – 60
BRAZILIAN – low waist and shaped front & back. Halved back piece (but you can use whole piece too).  Sizes 32 – 46
THONG – low waist, typically shaped back piece.  Sizes 32 – 46
How to sew the panties: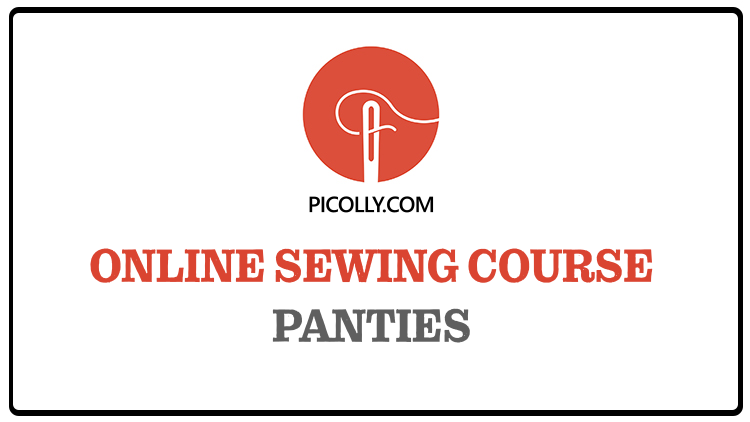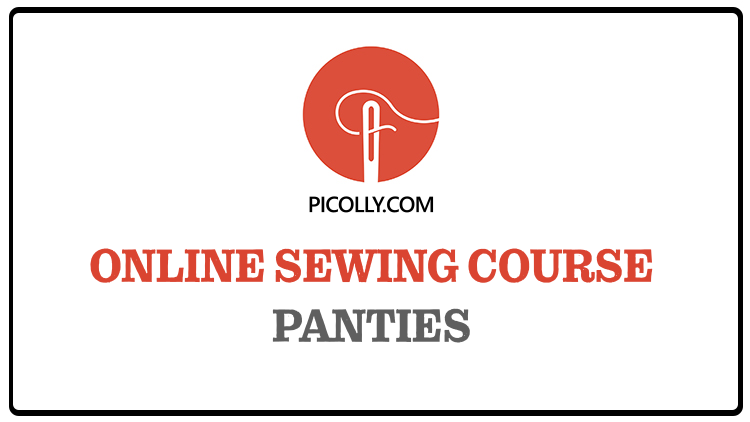 Difficulty level:
This pattern is suitable for intermediate seamstresses. 
Sewing is not difficult at all, just be careful not to deform the panties when sewing hems. A regular sewing machine will suffice for sewing. You can use an overlock, but it is not necessary.
Recommended material:
Thinner elastic materials – knits, sports knits, ponte knits (Ponte Roma, for example), elastic lace…
The most suitable is a cotton knit with elastane. Cotton is perfect for this purpose and elastane ensures sufficient flexibility. Sports knits are best for "seamless" ("invisible") variants, but they are synthetic materials. Ponte knits are also great for "seamless" panties. You can also use elastic lace, or any knit with elastane (try to choose lightweight materials). Merino is great and viscose & bamboo knits work too. Look for fabrics with elastane (or different elastic fiber). I recommend using tracksuit fabric or French Terry for warmer underwear (winter panties for children, for example). However, in the case of tracksuit fabric, the choice is difficult, because most of them are much more elastic along the grain then along the width, so that problems with the positioning of the pattern pieces can occur. Use swimsuit fabrics to sew ultra-thin underwear.
Required amount of material:
0,5 m (for 140 cm wide fabric)
There are two versions of this pattern:
(you will recieve both of them after purchase)
1st version (one size view) – PDF A4 – pattern in individual sizes with seam allowances outlined – all individual sizes of the pattern (pattern of each size shows sewing lines and seam allowances are outlined too).
2nd version (classic view) – PDF A4 pattern showing all sizes without seam allowances – all sizes are outlined "in one picture" (each in its own color) without seam allowances.

You can choose what works best for you. The advantage of the classic view (where all the sizes are shown) is that you can easily customize your pattern to fit body types in between the chart sizes. One size view saves time during preparation – you do not have to think where and how much to add for the seams, because everything is already there.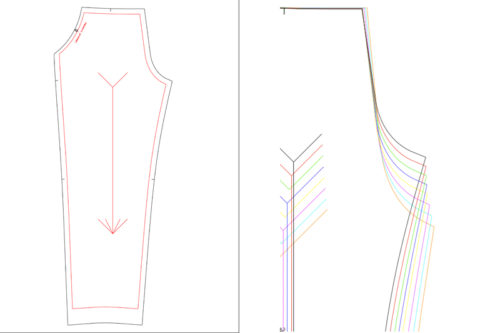 When and how do I receive my pattern?
After the payment has been credited to the account, I will immediately send the pattern with sewing instructions in PDF format to your e-mail address. Then you just need to print and assemble the pattern of desired size.
Check out my article on how to assemble the paper pattern from A4 pages.
Size chart:
Size chart
Size
32
34
36
38
40
42
44
46
48
50
52
54
56
58
60
62
Height
168
168
168
168
168
168
168
168
168
168
168
168
168
168
168
168
Chest
76
80
84
88
92
96
100
104
110
116
122
128
134
140
146
152
Waist
58
62
66
70
74
78
82
86
92
98
104
110
116
122
128
134
Hips
82
86
90
94
98
102
106
110
116
122
128
134
140
146
152
158
Declaration
Pattern, including instructions and all photographs, is a copyrighted work and any distribution, copying or disclosure to third parties is prohibited and will be considered a violation of the Copyright Act (Copyright Act, Act No. 121/2000 Coll. / Zákon o právu autorském – Zákon č. 121/2000 Sb., Česká republika), which may be prosecuted. Contents of the pattern (and instructions) are based on personal experiences of the author. Your personal successes and possible failures are in your hands and the author bears no responsibility for them. But that doesn't mean you're on your own. Whenever you need advice, please do not hesitate to contact me at petra@picolly.com
Notice to companies
The pattern is not intended for commercial use. If you are a tailor (for example) and you want to use any of my patterns for commercial purposes, please do not hesitate to contact me. I will be happy to discuss my options with you and create a bespoke offer for you.
For best results, please read the following:
The patterns are constructed in ready-made sizes, because it is not possible to construct a pattern for all body types (the size chart would get too congested).
To make the clothes fit the individual figure perfectly, you need to carefully measure it first. Then compare measurements with size chart, and paper pattern. That is the only way to find best pattern size.
In addition, it's almost always necessary to adjust the pattern slightlyto make it fit perfectly. (Even if we have two women whose measurements are the same, they will differ in other ways – one of them may have a narrower back and a larger bust, the other may be more muscular with smaller bust. One of them may also have wider hips and flatter buttocks, the other may have narrower hips and rounder buttocks…) Patterns (and their sizes) are only rough guidelines. If you are going for perfect fit, you need to perform fitting tests and adjust the garments accordingly. Sewing is a creative activity and you need to take into account that each of us is built differently. THIS APPLIES TO CHILDREN'S AND MEN'S CLOTHES TOO – WE ARE ALL UNIQUE.
If you are using some pattern for the first time, always sew "test sample" from a cheaper fabric first. Mark any adjustments in the paper pattern and then use it to sew the final product. It is a classic tailoring method. No two fabrics are the same, therefore, please note that what works with one fabric may not work with another. That is why you should always sew test samples. Sewing is not like baking, you can't just pick the pattern and expect the perfect results without some measuring, testing and adjusting. That's just how it works.
I also recommend temporarily stitching all seams that affect circumferences (such as side seams, instep seams, etc.) before sewing. So, you can try the garment on and adjust it if necessary. Do not underestimate ironing and testing the clothes during the sewing process.
Also don't forget to carefully mark seam allowances. Beginners often forget about them. It is necessary to measure seam allowanceswith the measuring tape around the entire pattern and then sew along the correct sewing lines – seam allowances width away from the cutting edges. Careless work with the seam allowances can result in large deviations in the overall widths and lengths of the individual pieces.
When positioning the paper pattern pieces always make sure that the pieces are oriented correctly.
Free patterns:
Not sure whether to buy a pattern? Not sure what the pattern will look like and if you ever be able to put it together? Download one of my patterns for free and see what it looks like and try using it. Free patterns are in the same format as the patterns available in the store. You check them out here:
Worth reading:
If you want to take your sewing skills one step further, I suggest you go through:
You might be interested in: